The team at Easterbrook Hall on the Crichton Estate is buzzing after winning Scottish Wedding Venue of the Year 2018.
After launching the new Crichton Estate Weddings Brochure and hosting the annual Easterbrook Hall Wedding Show on 25th February, the Crichton Estate Weddings team went off to The Scottish Wedding Awards at the Crowne Plaza Hotel in Glasgow.
As a result of the nominations and testimonials received from brides and grooms and their families, and the support and endorsements received from other wedding specialists and suppliers, Easterbrook Hall was shortlisted for the regional Best Wedding Venue in the south of Scotland and went on to win the award.
All regional finalists were then entered into the national award to determine the Scottish Wedding Venue of the Year and, representatives Fiona Rands and Kirsty Normand were exceptionally proud to bring the national award back to Dumfries and to share the news with colleagues at The Crichton Trust.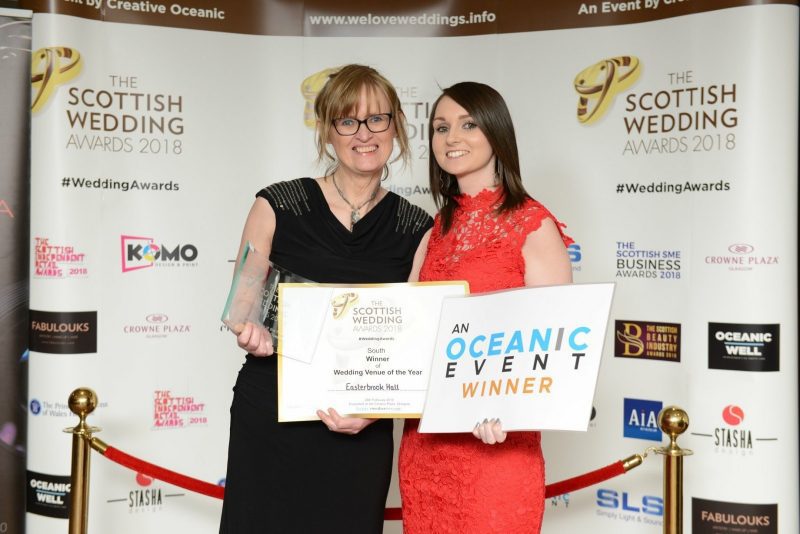 For anyone looking to secure their wedding venue, the team at Easterbrook Hall is always willing to help plan a Crichton Estate Wedding, and to offer the flexibility of Easterbrook Hall, the Crichton Church and the Crichton Gardens for wedding ceremonies, receptions or both.
The team can also put couples in touch with a range of other experienced wedding specialists to ensure everyone gets the unique wedding they want and deserve.  Easterbrook Hall is well connected with other suppliers whether it's photography, car hire, venue accessories, table décor, wedding stationery, hotel accommodation, music, wedding dresses, beauty, cakes or flowers. Neuro's Bar, Restaurant and Spa is also on the estate offering a venue for pre and post wedding day celebrations as well as spa and beauty packages and treatments.
Fiona Rands, Manager at Easterbrook Hall said: "Wow, what a great week it has been for everyone here at Easterbrook Hall. Our annual wedding show was a great success on Sunday where we also launched our new wedding brochure. Being nominated and shortlisted for the Scottish Wedding Awards was a great honour and going on to win the regional wedding venue award in Glasgow on Monday evening was just fantastic, but to win the Scottish Wedding Venue of the Year Award for 2018 was truly overwhelming. I can't thank our suppliers and customers enough for their support, but coming back to share the news with the rest of the winning team on Tuesday morning was the best part and I want to thank every member of the team for their contribution to this achievement."
Anyone interested in booking a Crichton Estate Wedding or holding any other celebration, function, exhibition or conference at Easterbrook Hall is invited to contact Kirsty or Fiona on 01387 702020. New wedding brochure now available.