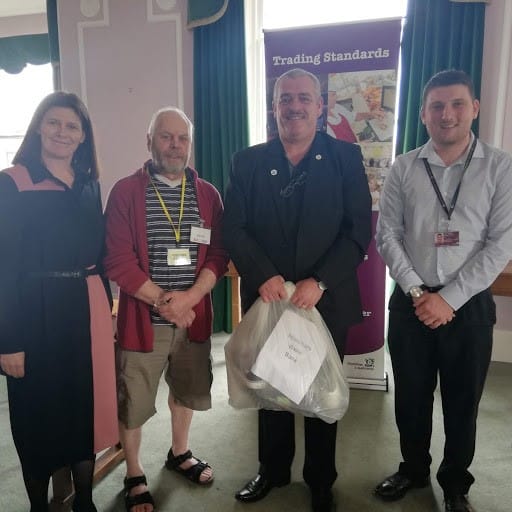 Dumfries and Galloway Council's Trading Standards Team have been working to de-brand counterfeit clothing to donate to organisations who tackle poverty within Dumfries and Galloway.
The clothing was seized by Trading Standards as it breached Trade Marks legislation. Trading Standards are responsible for the disposal of the clothing and rather than see the items destroyed, have ensured that they go to good use within our local community. With a little ingenuity all of the counterfeit labels, branding and false logos were removed from each item of clothing. Third sector organisations who tackle poverty were given 206 pieces of clothing and footwear.
Among the organisations to benefit are;
Wigtownshire Women's Aid
Machars Basics Bank
Quarriers Stranraer Branch
Park Primary School
Rhins Basics Bank
Buddies Dumfries
Employability Team
Fed Up Café
All of the items will be given to those most in need to make a difference to their lives. When people are experiencing poverty, clothing is a luxury which many cannot afford and to have something new to wear can lift spirits and makes them feel a little bit better.
Councillor Archie Dryburgh, Chair of Dumfries and Galloway Council's Economy Environment and Infrastructure Committee noted;
"This project continues to highlight our dedicated commitment to continuing to tackle poverty within our Region through the delivery of our Anti-Poverty Strategy and Action Plan. Through the work of our Trading Standards Team and all of the agencies who have received these goods today, we are continuing to support families and individuals to escape from poverty. All of these items of clothing and footwear will turn the negative impact of counterfeit goods into a positive outcome for everyone involved."
Councillor Andrew Wood, Vice Chair of Dumfries and Galloway Council's EEI Committee commented;
"We are delighted to be able to help our most vulnerable residents in this way and look forward to further items of clothing and footwear being redistributed in the future to those most in need."
The goods were seized by officers during criminal investigations into activities that were specifically designed to make an illegal profit for the individuals who tried to sell them and the organised criminals behind them. The items have not only been taken off our streets but are also being used to make a positive contribution to our communities.