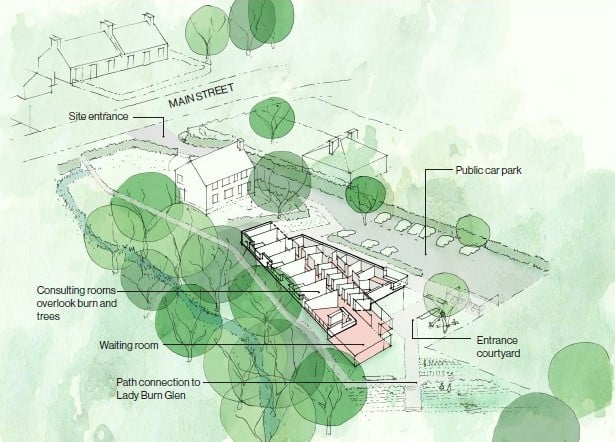 Old Luce Development Trust is delighted to announce that it has been successful in its application to the Scottish Land Fund for £261,250 from the National Lottery Community Fund towards the purchase of the Four Winds GP practice and adjoining property and associated costs.
Concerns were raised with the Trust in late 2019 regarding the longer-term presence and viability of the GP practice in Glenluce, which serves 1,857 patients, mainly from the Old Luce and New Luce community council areas. The Trust held community meetings in both Old Luce and New Luce, and with unanimous public support from over 200 attendees, investigated the feasibility of constructing a new, purpose-built, premises.
Old Luce Community Fund has also awarded £59,820 towards the remaining costs of the purchase of the surgery site, purchase of land behind Four Winds and to take forward initial plans for the second stage of the project, to build a new medical facility on the combined sites.
The funding enables the Trust to complete the first stage of the project, to purchase the Four Winds site, safeguarding medical practices in the parish for the immediate future and empowering the community through the management and ownership of a vital community asset. The Trust is looking forward to working with the medical practice and NHS as it becomes the landlord of the practice in early 2021.
"Huge congratulations to Old Luce Development Trust on their Scottish Land Fund award. As one of 29 groups across urban and rural Scotland sharing in £3.6 million of funding, they are now in a unique position to take control of land and property assets that will reap rewards for people now and for generations to come. I wish them every success as they take forward their exciting community ownership plans."
Scottish Land Fund Chairman, John Watt
The surgery project is one of many undertaken by Old Luce Development Trust since its formation in 2016. It has improved walking paths in the area, with improvements to the Backburn path through the village, creation of a path along the former railway line between Castle of Park and Challoch Junction, and improving path access in Balkail Glen, which it took ownership of in 2016.
In 2021, the Trust will consult residents on the future of the former Brambles café and open a new village square on the former plot at 21 Main Street, along with continuing the management of Glenluce Public Hall. The Trust has also successfully applied for a community asset transfer of North Street lorry park and the industrial estate in the Glenluce, with completion set for early 2021 and a programme of works on the sites outlined for the coming years.
The Trust continues to brighten up the festive season with the installation of Christmas lights in Glenluce and Dunragit and is seeking funds to purchase a site in Dunragit to be developed into a community hub in the future.
The Trust now needs to make an informed decision on the future use of the attached house. The SLF funding covered the cost of a Housing Needs and Demands Survey for the Old Luce area to inform this and future housing-related decisions made by the Trust. South of Scotland Community Housing has been engaged to carry out the survey, which takes about ten minutes to complete. We would encourage as many Old Luce residents as possible to complete it. Closing date: Friday 26 February 2021. https://www.surveymonkey.com/r/Glenluce21