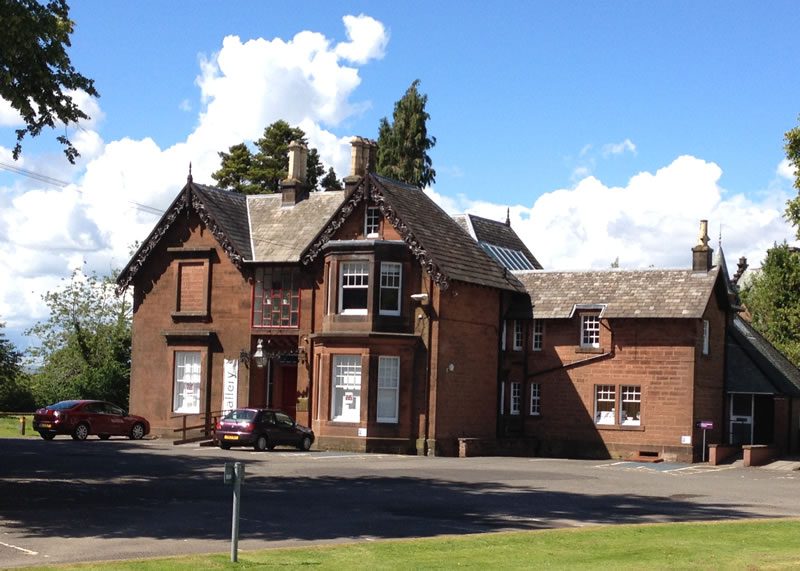 An exciting new exhibition opens at Gracefield in Dumfries on 20 May, taking over both the gallery spaces in an ambitious mixture of painting, print and installation.
Artist Patricia Cain is based in Tynron near Thronhill. For this exhibition she has made a new body of her own work and curated a selection of work by Scottish abstract artists Wilhelmina Barns-Graham (1912-2004) and William Gear (1915-1997). The aim is to create an installation that encourages visitors to engage with the creative processes of artists who make both representational and abstract artworks.
Originated during a 3 month residency at Barns-Graham's house 'Balmungo', Seeing Beyond the Immediate goes behind the aesthetic of artworks to focus on the artists' process and decision-making and considers how this might be linked to the development of the artist herself. The exhibition's narrative reveals how Cain makes her work in relation to what she observes of the world and the work of others and its interactive content allows visitors to experience this for themselves. The artist trained in Law in the 1990's before moving in to visual arts and academia, gaining her PhD in 2009.
Everyone is welcome to attend for the opening of the exhibition with Jenny Wilson of the Barns Graham Trust on Saturday 20 May, 2pm to 4pm.
There are a few speakers to confirm but Trish is also planning: Seeing beyond the Immediate Symposium On Thursday 15 June. Presented in association with Upland, the symposium considers the impact of creative process on the maker's development with a specially invited international group of speakers. Full details will be available at the launch of the exhibition and through Upland's website www.weareupland.com or contact Gracefield on arts@dumgal.gov.uk
Alongside our exhibition programme, there are also opportunities to try different lass and activities. Coming up in June is a Sketch Book workshop with Bea Last. In July Hazel Campbell offers a two day painting masterclass. There's our Saturday kids club and baby and toddler for the young ones, so have a look at the programme and see what you might enjoy.
All courses need to be pre-booked but give us a call on 01387 262084 for details. The exhibition is open Tuesday to Saturday from 10am to 5pm, admission free and it runs until Saturday 8 July.
Visit the website at www.dumgal.gov.uk/gracefield or check out Facebook and Twitter. There's plenty parking and our lovely Café Hubbub for some healthy lunches and snacks and of course, cake, and this month's exhibition is retired architect and first time exhibitor, Ian Frank.