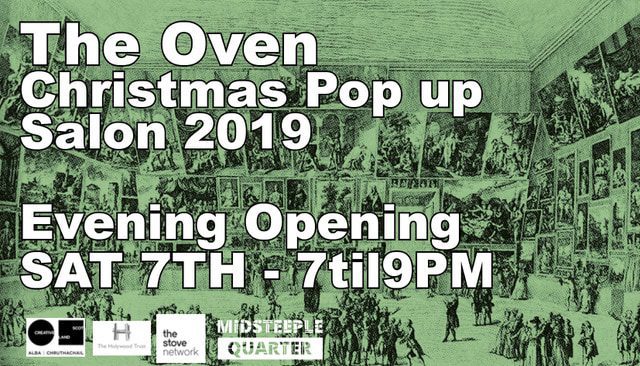 This year the Midsteeple Quarter Project are staging a Pop Up Salon at The Oven on the High Street in Dumfries in the lead up to Christmas. Art Salons are traditional style shows with works hung floor to ceiling with almost every inch of space covered by artworks: paintings, drawings, photos, prints, textiles, films, small sculptures and more. The Pop-Up Salon is free entry and all the works are for sale – it will be open from 7th – 21st December.
Midsteeple Quarter had an amazing response to their call out for work to be considered for the show. Well over 100 pieces of art will be on show and available to buy throughout the festive period.
The team have been gathering works by artists from both Dumfries and Galloway and across the country. The aim of the Pop Up Salon is to make art accessible to everyone. It's providing an opportunity to showcase the work of many artists but also catering to a range of prices, making art affordable.
Peter Smith, Creative Assistant at The Oven says, "We have so many amazing artists in the region – this is a chance to see a whole bunch of their work in one place. In addition to local artist's we have reached out to some amazing artists across the country bringing works from artists based in Glasgow, Manchester and all over. "
Buying an original piece of art also makes the perfect Christmas present. It supports the artist, local arts projects and is such a personal and considered present, which will be unique. The curated Pop Up show has gathered in so many different styles of art that the Midsteeple Quarter are confident everyone will find something.
The Oven Christmas Salon will be open daily from 12-4pm from the 7th December until the 21st December, with an opening event this Saturday evening 7-9pm.