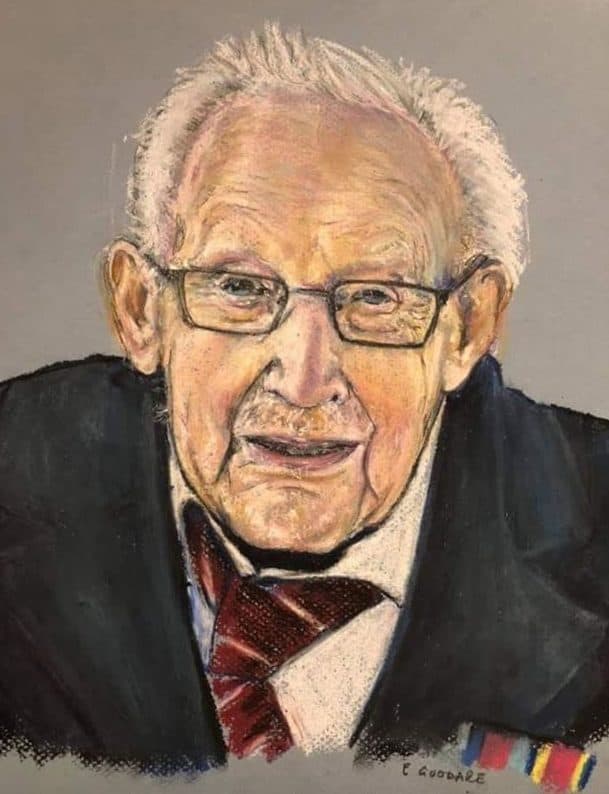 The Rotary Club of Kirkcudbright are delighted that they have won a print in the Silent Auction of the recently announced forthcoming knighthood and inspirational Captain Sir Tom Moore painted by local artist Ellie Goodare.
The money raised in the auction will be donated by Ellie to NHS Charities. Rotary President Alex Kinnell said "I am delighted that we have managed to acquire one of the prints, we knew that there would be a lot of interest and we put in a bid which we thought would be successful. We are keen that this work of Art is displayed in a public space for people to enjoy. We have an idea of an ideal place but we will need to have some discussions with the organisation concerned before we make an announcement. The auction shows us that something good can come out of a bad situation. Many thanks to Ellie for her generous artistic endeavour "
Since the outbreak of COVID-19 our Club has been very active in many directions. We have been able to make a substantial donation of £1,000 as Alex has mentioned to the NHS via Ellie in the Silent Auction, along with a similar amount to the Woman's Aid, Marie Curie, Heart of Galloway Food Bank and the Halo Trust.  £500 has also given to the Blood Bikes. The Rotary Club also donated £500 to the Bunker Project in Gatehouse and £250 to the Kirkcudbright Development Trust Youth Project for the purchase of Activity Packs for youngsters who are unable to meet up with their friends during the lock down. Funding for the Activity Packs also came partly from Dumfries & Galloway Council and the Holywood Trust.  Love of Scrubs via Dumfries Rotary received £125 and the local representative supporting the NHS and local Care Homes received £100 to buy materials to make PPE.

Rotarians along with their Partners and members of the Inner Wheel have given many hours of their time Delivering prescriptions, Food parcels and running errands. Rotarians and Inner Wheel members have also been involved in the making of Scrubs, Scrub bags, Face coverings, quilts, blankets and comfort hearts. One Rotarian even baked some delicious Jam Tarts to raise money for Charity.