100 studios open their doors for the biggest ever Spring Fling
Dumfries and Galloway's huge visual art and craft celebration
Like many children Nate Robinson loved dinosaurs – and then as a teenager decided he became fascinated by blacksmithing, building his own forge heated using his mum's hairdryer.
Now aged 27 he has combined the two fascinations and has created a three metre long, 240kg steel allosaurus and a 7.3 metre, 300kg steel fork which will be among the fabulous array of work he's exhibiting as part of the Spring Fling open studios weekend from 27-29 May.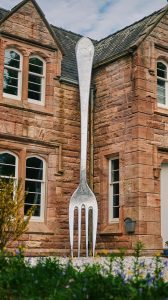 It's the 21st annual Spring Fling, and the largest ever with 100 participating studios belonging to artists and makers of every imaginable kind, all across Dumfries and Galloway.
Among the painters, photographers, jewellery-makers, woodworkers, original printmakers, textile artists and others are many who have taken part in the past, plus first-timers like Nate and ceramicist Frances Ross – who creates remarkable doughnut shaped pieces that look good enough to eat.
Nate, who is a self-taught blacksmith, has a superb forge in the 19th-century building which served as Thornhill's original schoolhouse. There he creates everything from pendants and decorative pokers to sheep with wool created from old bedsprings.
He said: "It's the first time I've taken part in Spring Fling and I'm really looking to welcoming people to my forge, showing my work and giving demonstrations.

"There's a whole group of Spring Fling artists and makers in and around Thornhill, so visitors can see everything from my blacksmithing to ceramics, jewellery and visual art."
Nate, who grew up in the area, became interested in blacksmithing after going to an event where he watched a demonstration and was given the chance to have a go.
He said: "I loved it, so I went home and built my own forge using a pot-bellied barbeque and my mum's hairdryer. Things developed from there and I taught myself the skills – and to have my own business now is fantastic.

"I wanted to come up with a project to show potential customers the sort of work I could do, and I thought something big and impressive like a dinosaur would be perfect. I'd loved Walking With Dinosaurs on TV and remembered the allosaurus, so made that.

"I studied drawings of allosaurus fossils and worked them up on a computer so I could create one that was anatomically accurate, then made each piece by hand, beating out the metal on an anvil.

"My mate and I were joking about what else I could make – in the past we'd made a six foot spoon, so we thought we'd go one better with a six metre fork. Then that seemed a bit small so it ended up as 7.3 metres of mild steel.

"We've put it in front of the house as it'll help Spring Fling visitors to find the place."
The allosaurus took around 570 hours over a period of nearly six months to complete – he has made other dinosaurs including a triceratops.
Dumfries and Galloway is a huge and beautiful rural region which is renowned for its large and diverse creative community. Spring Fling puts a spotlight on the work of the artists and makers and provides an opportunity to visit an abundance of delightful studios in an exceptionally beautiful part of Scotland.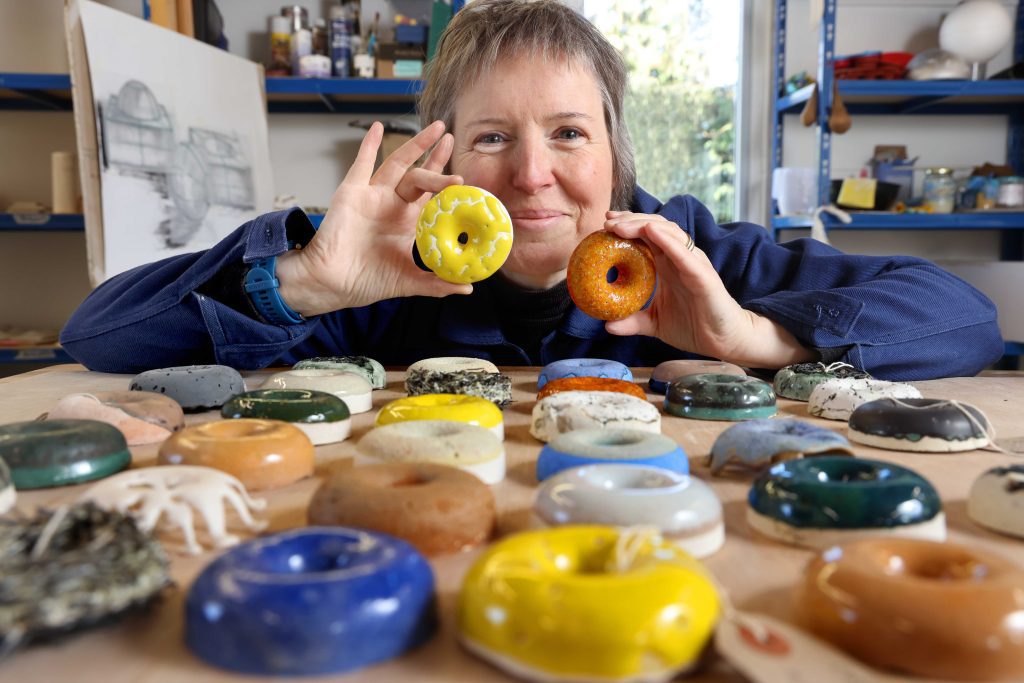 Frances, based at Creech House, Sorbie, south of Wigtown, in the south west of the region, creates tiles and highly tactile sculptural work including delightful, colourful doughnut-like pieces which people buy as room or table decorations or even to use as paperweights.
She said: "A lot of my work is experimental. I was working with refractory concrete and wondered what would happen if I put it in doughnut moulds and then wondered if they would take glaze – and it really worked beautifully. People always say they look good enough to eat.

"And now I'm starting to create tile inlaid furniture and stoneware tiles. What I'm really hoping to do is work with individual clients to design and produce exactly the tiles they want for their homes and gardens"
Dumfries and Galloway takes time to explore so Upland CIC, Spring Fling's organisers, have divided it into six suggested colour-coded routes that each allow people to meet a wide variety of artists and makers.
Joanna Jones, Assistant Director of Upland CIC which organises Spring Fling, said: "We are looking forward to a fantastic 21st, and biggest ever, Spring Fling open studios weekend. It's a great opportunity to explore one of Scotland's most beautiful regions, meet some of its most creative people and see the remarkable places where they produce such an incredible range of contemporary visual art and craft.

"Nate and Frances highlight the range of work and studios people can expect to see – there is something for every interest and budget, with travelling around D&G making a great day out for all the family."