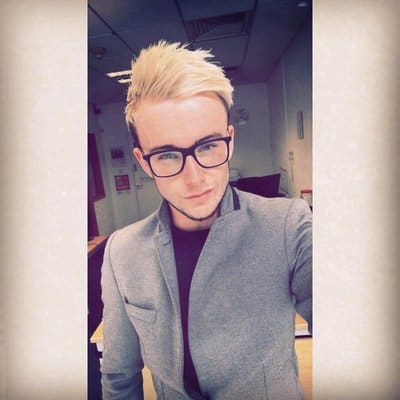 A TWENTY TWO YEAR OLD man from Dumfries will be taking part in a half marathon (Kirkbean to Dumfries), a 15'000ft tandem skydive and shaving his hair off – all in one day – in a fundraising effort to support lesbian, gay, bisexual and transgender young people.
Joe McGurk, an MSP's assistant at The Scottish Parliament, has committed to the initiative in order to raise money for the Time for Inclusive Education (TIE) campaign, which is calling for LGBT issues to be taught in schools.
McGurk, who was bullied at school himself and is hoping to raise £500, will embark on the challenge on Saturday 14th October and has appealed for public donations.
Joe Told DGWGO "TIE is such an emotionally compelling and charged campaign and is spearheaded by two of the most passionate campaigners I have ever met. As someone who was bullied for being 'different', the TIE campaign is something both I and my secondary school could have done with whilst growing up."
Among the campaign's proposals are calls for LGBT issues, such as same-sex families and the history of the LGBT rights movement, to be included in curricular guidance and for teachers to be trained on how to address the topic in the classroom.
Recent research from TIE highlighted that nine out of ten LGBT pupils reported experiencing homophobia at school, while 42 per cent had attempted suicide as a result of being bullied because of their sexual orientation or gender identity.
A TIE spokesperson said: "As we are unfunded, acts like this are the lifeblood of our campaign and we are very appreciative of efforts to support our work. Any funds raised by Joe will be used to cover the costs of our upcoming teacher training event in Aberdeen, where we will be equipping teachers with the skills to tackle homophobic, biphobic and transphobic bullying and to make their classrooms more LGBTI inclusive. We wish Joe the best of luck."
In February, the Scottish Parliament became the first in Europe to support LGBT inclusive education after a majority of MSPs signed TIE's campaign pledge. (2)
Following this, the Scottish Government launched a joint working-group with TIE and other stakeholders, which has been tasked with proposing policy recommendations to ministers.
You can donate to McGurk's fundraiser here.
Comments
comments