No 17 Cafe, 17 Church Crescent, Dumfries, DG1 1DF – Tel:01387 253832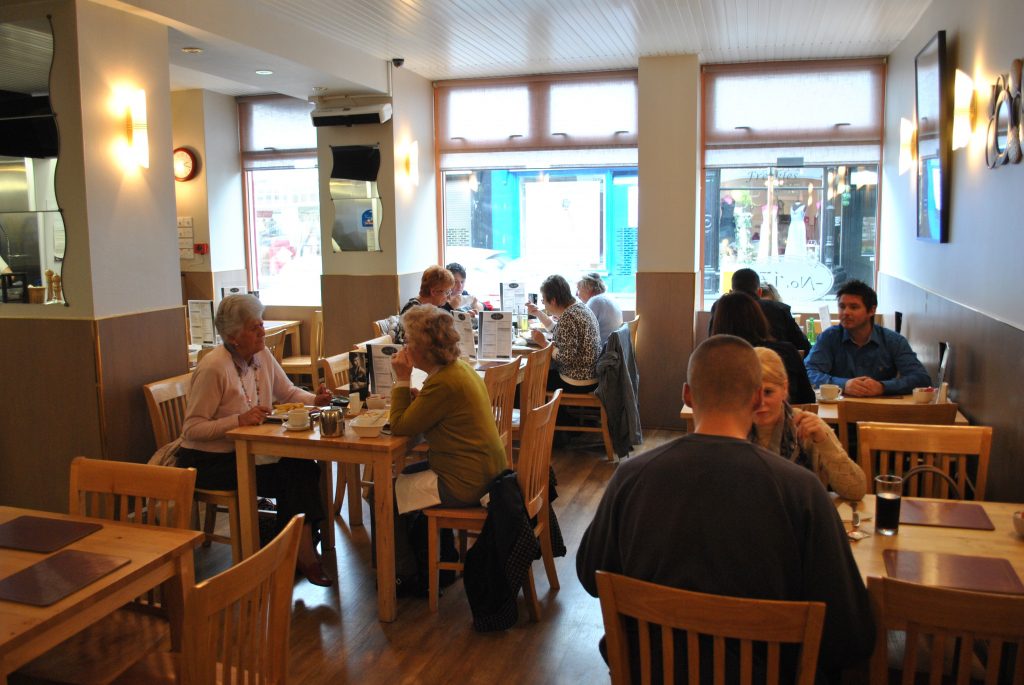 For more than 40 years of being known locally, to the people of Dumfries and Galloway as "The Doonhamer", proprietors Florence and Nicolae Popescu are delighted to open the doors once again to the café on 17 Church Crescent, Dumfries now known as "No.17".
Back in the driving seat after a few months off, Florence and Nic are steering the newly named No.17 in an exciting new direction. The café opened its doors on Tuesday 15th October with a brand new sophisticated look; the chic, monochrome décor evokes a continental feel offering customers a warm and relaxed atmosphere whilst being family friendly.
Keep up to date with No 17 on their Facebook Page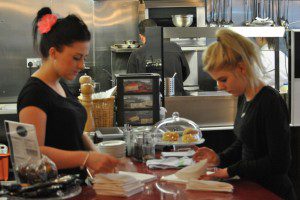 No.17 is open from 9am Tuesday to Saturday. Customers can look forward to ordering a freshly cooked breakfast and home baking, accompanied by their renowned, delicious ,freshly brewed Grand Milano Italian coffee with a Belgian chocolate finishing touch.
Lunches are available from 12pm until 2.30pm, all created with fresh, seasonal and local produce. The daily specials board will offer a variety of home-made Italian and British mouth-watering dishes, including Nic's famous Risotto. Lunch can be enjoyed with a glass of Sicilian house wine, Nero D'Avola, Prosecco or a chilled glass of Peroni Italian Lager.
Nic's passion and love of quality fresh food brought him to Dumfries from Romania 12 years ago;  he enrolled at Dumfries and Galloway College of Technology to study Higher Professional Cooking for 2 years followed by a further 2 years studying for an HND in Management and Hospitality. After 4 years of hard work and dedication he graduated and only a few months later both he and Florence bought what was "The Doonhamer".
Florence brought all her cooking experience to the table in their new venture having opened Claudio's Italian Restaurant in Moffat in 1996 (with her late husband Claudio Capriglione) and making it the success it is today with the help of her family. Nic prides himself in offering his customers fresh, delicious food at very reasonable prices and this is evident by the amount of regular customers that come through the doors on a weekly basis.
Florence, Nic& Staff are very much looking forward to welcoming back their regular customers who have faithfully supported them over the years whilst also embracing their new customers.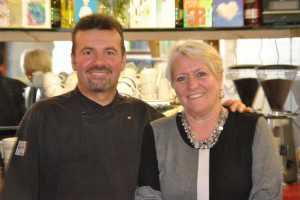 Perfect for vegetarians; other vegetables that are ideal to use for Risotto include broccoli, spinach, artichokes, marrow, courgettes, cauliflower & butternut squash. To enhance the flavour of the rice, recycle the vegetable cooking water.
Ingredients
Serves 6
500g fresh green asparagus (weighed after cleaning and trimming)
1.7 litres (3pints) water (for cooking asparagus and for risotto)
1 medium onion, finely chopped
80g salted butter 100ml dry white wine
350g Arborio rice
100g freshly grated Parmesan
Salt and pepper to taste
Method
1. Wash and peel the asparagus and cut away 3cm or so of the hard white stalk at the bottom (use this and the skin to add the flavour to the cooking water). Cut off about 5cm of the tips and set them aside (as they are tender, they will need less cooking) and keep them intact for garnishing.
2. Boil the asparagus stalks with the trimmings in the 1.7L of water for 8-10 minutes, depending on the thickness.
3. When they are half cooked, add the tips to the boiling water, when they are fully cooked, strain the stock and pop it back on the heat to let it simmer away gently. Separate out the asparagus tips, stalks and trimmings. Set the tips aside for garnishing, and chop the stalks finely and discard the trimmings.
4. On a medium heat fry the chopped onion in half of the butter, then add the chopped asparagus stalks and toss it for a couple minutes.
5. Now add the rice; coating it in the melted butter, after which pour in the wine making sure the rice absorbs it all and now proceed to the basic risotto method on a low heat.
6. Add the simmering asparagus stock slowly (a ladle at a time) until the rice absorbs each ladle full of stock; repeat this until the rice is al dente (to the bite) and creamy, but not too stodgy.
7. Remove from the heat and wait for a minute or two, stir in the remaining butter, some salt and pepper, and finally add the grated Parmesan and mix through.
8. Serve in bowls, and decorate with the asparagus tips.
9. Finally, pour yourself a large glass of crisp white wine and enjoy!!
BUON APPETITO!!!