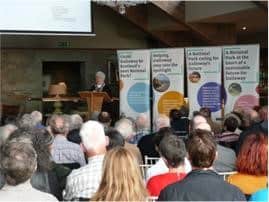 The time is right to put Galloway on the map: National Park volunteers 'overwhelmed' by conference response
A milestone conference in the campaign to bring about a 'Kingdom of Galloway National Park' has been hailed an 'overwhelming success' by the organisers.
With an audience of almost 300, it was standing room only at GG's Yard near Gatehouse of Fleet where attendees heard from speakers on the potential of a "Kingdom of Galloway" National Park to create a sustainable future for the region.
Opening the event, Dame Barbara Kelly – Chairman and President of conference organisers,  Galloway National Park Association (GNPA) – introduced the proposals as a response to the 'critical moment' facing the region, highlighting the uncertainty created by Brexit, as well as welcoming new opportunities in relation to initiatives like the South of Scotland Economic Partnership. These conditions had convinced her that this was the moment to consider whether a National Park could help south west Scotland to meet these challenges.
Attendees heard about what people had been saying at 70 meetings stretching from the Mull of Galloway to Muirkirk and Stranraer to Dumfries. It was revealed that so far 9 out of 10 people had declared themselves in favour of a National Park for the area. This extraordinary level of support and its geographical spread surprised and encouraged the group of volunteers who had engaged with communities across the region. It suggested that the time is right for a National Park for the Kingdom of Galloway. Reinforcing this view, one of the delegates described the proposal as a 'no brainer', whilst others said 'Let's go for it! Several asked how soon it could be achieved. Particularly heartening was the enthusiasm displayed by pupil speakers drawn from schools across the region for an initiative that they believed could enhance their chances of having a positive, long term future within it.
The conference paid tribute to Sir Alex Fergusson, who had long made the case for a Galloway National Park, both as a local MSP and more recently as President of the Scottish Campaign for National Parks (SCNP) and a patron of the GNPA. Dame Barbara said His enthusiastic support has helped take us to this stage; he is sadly missed but we hope he would be proud of today's achievements. With the support of his family, the conference closed by listening to a recording of Sir Alex promoting a Galloway National Park on the BBC's Landward programme.
MSPs Finlay Carson, Colin Smyth and Emma Harper, councillors from South Ayrshire, East Ayrshire and Dumfries and Galloway, and representatives of a wide range of organisations and interests were all present, along with GNPA members, patrons and supporters, to consider the outcomes of the community engagement and discuss what needed to be done to take matters speedily forward.
Responding to statements by Scottish Ministers that they would only consider designating any new National Parks where there was clear evidence not only of community enthusiasm but of local authority backing, Council representatives leant support to the proposal. Dr. Elaine Murray, Leader of Dumfries and Galloway Council, said 'a National Park would raise the profile of Galloway and shine a light on the area's high quality environment and landscape, offering opportunities to boost our economy and particularly the tourism sector.'
Michael Keane, Head of Economic Development & Planning at East Ayrshire Council, took the opportunity at the conference to announce his authority's support in principle for a National Park, thus aligning its stance with the encouragement previously received from Dumfries and Galloway  and South Ayrshire Councils.
Commenting after the event, Finlay Carson MSP said 'I was delighted to see such a large turnout.  The venue was the perfect setting and demonstrated the potential for rural businesses to boost our economy and enhance our beautiful region.

The participants included young and old, from the private and public sector and from across the region. The most encouraging contribution was from local schools. 

Today our young people left us in no doubt that they can see the tremendous opportunities which would come from National Park Status, social, economic and environmental.These young people are the ones who will benefit from us turning our aspirations into reality, and they are the young ones that will help drive the campaign forward.

 Today should send an unequivocal message to the Scottish Government, who have again and again said that the whole community need to be behind the campaign, that this is the time for Government to take this forward and deliver what the people of the south west need; the creation of The Kingdom of Galloway National Park'.

South Scotland MSP Colin Smyth said, "It's clear that support for a Galloway National Parks is growing all the time. The opportunity to put the case to Government for Galloway to be a National Park should be grabbed with both hands by the community. We cannot risk our region missing out. As the conference highlighted, there is no one size fits all when it comes to how a National Park would work so we can tailor the plans to suit our area and overcome any concerns some people may have. If we are serious about tackling the economic challenges facing our region, then we need to build on this conference and get behind the campaign for a Galloway National Park."

Emma Harper MSP said; "I was pleased to be able to attend the Galloway National Park Association Conference, at the fantastic GG's yard yesterday.  The speakers and arguments put forward were articulate, and this reflects that they all have the best interests of the people, and of Galloway, at their heart.  I am very open to the idea of a National Park for Galloway, and in the coming weeks and months, I will be asking questions of the Scottish Government on its position on creating a Galloway National Park.  I look forward to continued engagement with the dedicated campaigners on this important and exciting prospect."

Reflecting on proceedings, GNPA President and Chairman Dame Barbara Kelly said: 'We are overwhelmed and delighted at the level of local interest in the proposals to create a "Kingdom of Galloway" National Park. The conference allowed us to showcase our volunteers' efforts in engaging Galloway's diverse communities about what a National Park could mean for them. As I told those attending, I believe this is a critical moment for Galloway environmentally and economically and now is the time for us to explore these questions. The next stage is to persuade the Scottish Government to formally consult on a "Kingdom of Galloway" National Park'. 
Comments
comments