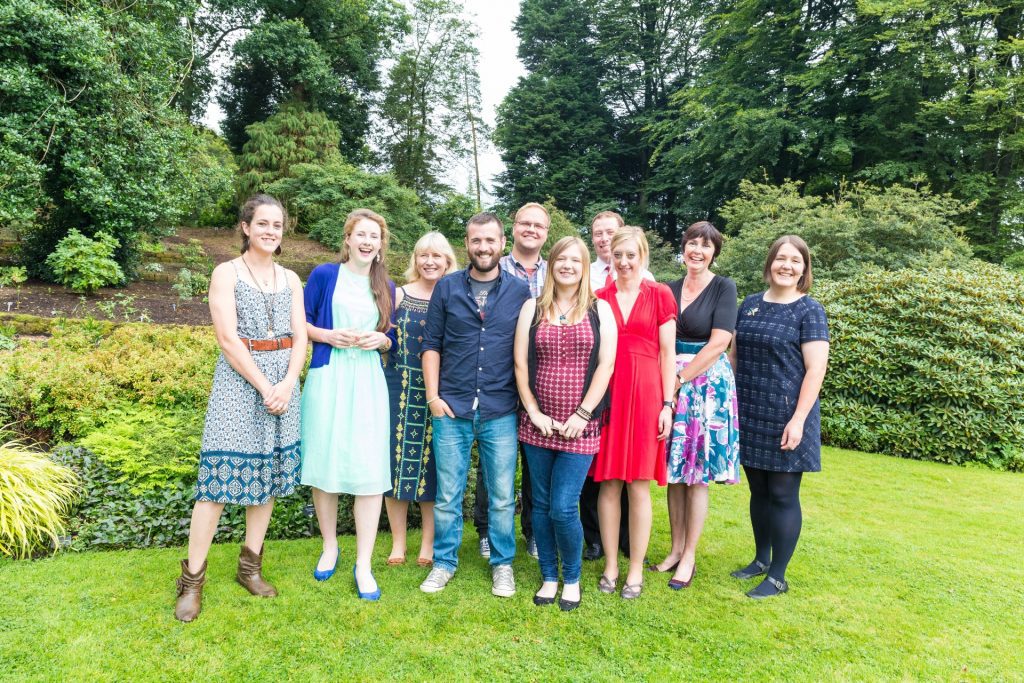 First graduate from Heritage Gardening Diploma
The National Trust for Scotland's School of Heritage Gardening has announced this year's graduates, including the first person to attain the new four-year Diploma in Botanic and Heritage Horticulture, an award made jointly with the Royal Botanic Garden Edinburgh.
Carol Pickthall, from St Andrews, plans to pursue a horticultural career after completing the prestigious qualification which is awarded jointly by the National Trust for Scotland's School of Heritage Gardening (SHG), and the Royal Botanic Garden Edinburgh (RBGE). This unique award combines existing SHG and RBGE programmes into one qualification that represents a badge of quality.
Colin Wren, the National Trust for Scotland's School of Heritage Gardening Co-ordinator, said:
"Employers like the Trust look to employ gardeners with a sound horticultural training – both practical and academic. While colleges offer excellent classroom training in the important scientific and artistic aspects of horticulture which underpin good practice, it has become increasingly difficult in recent years to find students who have gained sufficient hands-on experience and understanding of the skilled practical aspects of heritage gardening.
"Many of these traditional and modern skills can only be taught in any depth on a full-time practical course. The School of Heritage Gardening offers practical gardening skills to equip the future custodians of our heritage gardens."
The Diploma in Botanic & Heritage Gardening aims to re-invent the traditional model offering students the opportunity to acquire both theory and practical skills needed to ensure graduates have the necessary skills and knowledge to perform effectively at gardens supervisory level.
Horticultural training has been offered by the Trust at Threave, Dumfries and Galloway for more than 50 years and at RBGE for more than 100 years. By working together and combining 150 years of experience and management of almost 40 gardens and designed landscapes, NTS and RBGE aim to provide a unique and distinctive blend of the heritage gardening skills and knowledge that both students and industry need.
As part of the four-year programme students complete:
Year one, HNC in Horticulture with RGBE or other college; Year 2, Scottish Heritage Gardening Certificate in Practical Heritage Gardening at SHG Threave; Year 3, Year 2 of the RBGE HND in Horticulture with Plantsmanship at RGBE or Scottish Agriculture College SRUC; Year 4, SHG Diploma in Heritage Gardening, 2nd practical year in heritage gardening with garden management linked assignment, at NTS garden or another approved heritage garden.
Carol Pickthall, one of 10 graduates who received their awards at a ceremony at Threave Garden, was first to be awarded the new joint diploma. Each member of the cohort has either secured employment or plans to do further training. Carol, however, intends to take time out to travel to Australia before pursuing her horticultural career.
Carol Pickthall was a Trust volunteer at Falkland Palace before going to SRUC Elmwood College where she studied for a HNC. She completed the first year of Practical Heritage Gardening at Threave with distinction. She went on to Year Two of the HND in Horticulture with Plantsmanship course at RBGE, where she also achieved a distinction. Carol completed her second practical year in heritage gardening at Crathes Castle garden, where she was updating the champion tree records (TROBI). After her travels, Carol plans to work in horticultural therapy or to study further for a degree.
This year's graduates also include:
Two-year Diploma in Heritage Gardening: Iain Govan, (distinction); Maryjean Smith, (merit); Isaac Robinson (merit).
One-year Certificate in Heritage Gardening: Petra Palkova, Katy Merrington, Sean Hannah and Georgiana Goss all achieved Distinctions. Kerry McCallum and Jessica Scobie both achieved Merit Plus.
The School of Heritage Gardening provides one and two-year full-time courses at its main training centre at Threave Gardens in Dumfries & Galloway, and across many of the Trust's heritage gardens around Scotland.