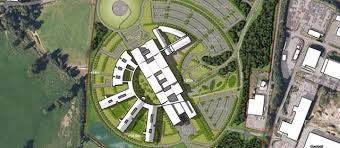 New hospital build delivering on local jobs promise
The construction of the new build Dumfries and Galloway Royal Infirmary is delivering high quality apprenticeships for local young people, new figures have revealed.
The project team behind the hospital gave details of the new starts in response to a query from Joan McAlpine MSP.
It said 78 new starts were employed to work on the project to date – with over three quarters of these coming from the region – and 14 trainees and apprentices.
However the building is at a very early stage and many more jobs will be created as it progresses. High Wood Health, who are managing the project, signed a community benefit clause to deliver 150 local jobs – 36 of which will be apprenticeships.
The MSP praised NHS Dumfries and Galloway and the Scottish Government for ensuring that local people were included in the economic benefits of the major construction project.
She explained that changes put in place by the Scottish Government made it easier to demand public contract benefit local communities. The Procurement Reform Act, brought in by the Scottish Government last year, strengthens community benefit clauses such as the one for DGRI. Research published by the University of Glasgow in June shows that the use of these clauses has resulted in a high level of jobs and training opportunities that would not have happened otherwise.
Commenting Ms McAlpine said:
"It is great to see the new hospital project having such a positive effect on local employment, even at such an early stage in the build – I am pleased NHS Dumfries and Galloway and High Wood Health on target to deliver their promises on local jobs and training.
"I have been told that engagement with the college has already started and that a work experience programme is due to start in November. A similar programme for secondary schools was launched last week.
"Apprentices have been taken on already, and we will see even more opportunities for young people as the project develops."
The Scottish Government is committed to investing in youth employment – creating over 101,000 new apprenticeship opportunities over the last four years, including a total of 753 starts in Dumfries and Galloway in 2014/15 alone.
Ms McAlpine said:
"Apprenticeships not only offer our young people better job prospects – they also have a positive impact on businesses and industry, bringing value to employers and our economy."