People across south west Scotland are being invited to have their say on proposals to develop Ellisland, the former home of poet Robert Burns, into a world class visitor attraction.
A public information day was held at Ellisland last week where the proposals received widespread support. A digital survey has now been launched so that more people get the opportunity to comment on the proposals.
Developed by Robert Burns Ellisland Trust, the charity that manages Ellisland, the proposals recommend the need to 'conserve the site through using it'. A new, sympathetically designed visitor centre is planned to protect Ellisland's collection and improve visitor facilities, while creative retreat accommodation, for writers and artists, is also in the pipeline.
The digital community engagement has been funded by Dumfries and Galloway Council's Community Led Vision Fund. It includes a video explaining the proposals, and an online survey where members of the public can share their views.
Joan McAlpine, Business Development Manager for the Trust, said that ensuring everyone with an interest in Robert Burns and his legacy has an opportunity to have their say is a top priority for the Trust.
"We know that lots of people with an interest in Burns and Ellisland were unable to attend the information day in-person, so we wanted to extend the opportunity to comment on our plans.

"We are absolutely committed to protecting Ellisland so that it can inspire future generations, just as it inspired Robert Burns. This is an incredibly special place and it's essential that we get this right."
Ellisland Museum and Farm, located a few miles north of Dumfries, was built by Burns in 1788 for his young wife Jean Armour and their family. The period he lived at Ellisland was one of his most prolific. He wrote a quarter of his songs and poems there, including Auld Lang Syne and Tam o' Shanter.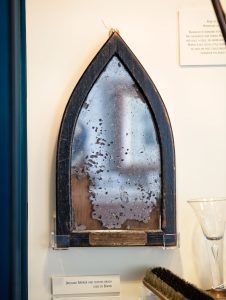 It is said Burns was inspired by Ellisland's beautiful setting, describing its riverside location 'as sweet poetic ground as any I ever saw' in a letter in 1787. The site has changed little since the 18th century, and it was recently described in a conservation study as being of exceptional significance due to its authenticity.
The survey will be open till 12th March, and can be viewed at:  https://www.surveymonkey.co.uk/r/Ellisland
The results will be used to inform long term plans for Ellisland, including supporting funding applications for the development of the site.