A Public Meeting will be held on Thursday 8th February at Troqueer Primary School from 6.30pm to officially launch the Save Rosefield Mills Fundraising Campaign. Following two successful Community Consultations, Dumfries Historic Buildings Trust is now seeking support from the public to help complete the purchase of Rosefield Mills; a historic landmark building in the heart of Dumfries.
Rosefield Mills is the last of the great Victorian mills that once lined the river, and a vital part of Dumfries' heritage and identity. It came up for auction at the beginning of last year and since then the Dumfries Historical Buildings Trust have been working to raise funds and gain support to bring this beautiful building back into the life of the town.
Mark Zygadlo, Project Coordinator of the Rosefield Mills Project for the Dumfries Historic Buildings Trust, commented: "Dumfries' most remarkable building is crying out for a new life and purpose. The Rosefield Mills Project is all about the Dumfries community; it has to work for the whole community and become a place that everyone can use and be proud of. Based on the level of interest and the thousands of messages of support we have received, we believe there is a solid enough groundswell of support for the project to ask the Dumfries community for the funds to complete the purchase."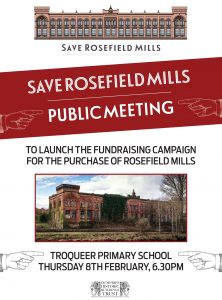 Over the last year, the Rosefield Mills Project has gained the support of many organisations, but is now seeking the support of the public. Before the project can progress any further, Dumfries Historic Buildings Trust must raise the funds to complete the purchase of Rosefield Mills. The project is seeking donations from members of the public through an online fundraising campaign. The open Public Meeting on Thursday will allow members of the public the chance to find out more about the fundraising campaign, as well as the history of the site and learn more about the project so far. The event will begin at 6.30pm, and all members of the public are invited to come along and pledge their support to the project.
Dumfries Historic Buildings Trust project leaders believe this is a great opportunity for the Dumfries community to save Rosefield Mills, to demonstrate their affection and concern for the building and its future and take an active part in finding a new life for this beautiful building.
You can follow the progress of the project on Facebook and on the Trust's website: www.dumfriestrust.org.