An urgent appeal to raise funds for the purchase of Rosefield Mills is seeking support from the public to raise the final amount required before the Fundraising Campaign ends on Saturday 17th March.  The historic landmark building is a vital part of Dumfries' heritage and identity, and Dumfries Historic Buildings Trust (DHBT) have been working to raise funds and gain support to bring this beautiful building back to life for the benefit of the community.
Mark Zygadlo, Project Coordinator, commented: "The people of Dumfries have responded generously to the project with their time and donations, and we believe this is because so many people know and love Rosefield Mills and want to save it. We are now in the final stage of the fundraising process and, with just over a week still to go, still have a lot of money to raise. There are many ways donations can be made – online via our Facebook Fundraiser, through the DHBT website or by cheque to the Trust. People can also purchase raffle tickets or take part in the final event of the fundraising; a Sponsored Dog Walk (dog optional). Please don't wait any longer – Rosefield Mills needs you!"
Since the Fundraising Campaign launched on February 7th, they have had numerous donations, including a donation of £5000 which arrived at the Rosefield Mills Project Office in the form of an anonymous charitable cheque. The People's Project have also very generously donated £5000 towards the purchase of Rosefield Mills, and the Trust have shown their appreciation by gifting them a limited-edition linocut print of the Mill by local artist Hugh Bryden. The project would like to gift the anonymous donor the same print, so they are encouraged to come forward so the Trust can thank them for the splendid boost to the Fundraising Campaign.
You Can Donate by Clicking HERE
In thanks and recognition of donations, the project is offering a framed limited-edition hand-coloured linocut print to anyone who donates £5000 or more, a framed black and white limited-edition linocut print for £1000, a black and white mounted print for donations over £500 and an A4 giclée print for any donations over £250.  A special numbered postcard with Hugh's work is offered for any donations over £10. Members of the public who donate via the Facebook Fundraiser will be automatically entered in to a draw to win one of Hugh's monochrome prints. The winner will be announced on Saturday 17th March at the Yellow Door.
People can also donate by purchasing a Rosefield Mills Raffle Ticket, which cost £2 for one or £10 for a book of tickets. The chosen ticket will be in with a chance of winning some amazing prizes including a fantastic portrait session in Rosefield Mills with photographer Kim Ayres – perfect for a band photoshoot or a promotional shoot for your business. The winner will also receive a colour framed linocut of Hugh's print, a family or couple photoshoot with local photographer Kirstin McEwan, a £50 Gift Voucher for the Yellow Door and many more prizes. Tickets can be purchased from the Rosefield Mills Project Office or in the Stove Café, and the raffle will be drawn on Saturday 17th March at the Yellow Door.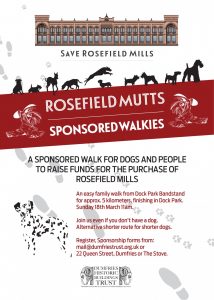 A Sponsored Walk for dogs will take place on Sunday 18th March to raise funds for the purchase of the Mill and officially end the Fundraising Campaign. Rosefield Mutts Sponsored Walkies is an easy family walk, starting from the Dock Park Bandstand and will take approximately an hour and a half, with an alternative shorter route for smaller dogs. Participants don't need to have a dog to take part – everyone is welcome! Sponsorship forms can be collected from the Rosefield Mills Project Office at 22 Queen St or from the Stove Café at 100 High St.
The Project Team for the Save Rosefield Mills Fundraising Campaign will also be at the Loreburne Centre on Saturday 10th and Saturday 17th March from 10am until 4pm selling raffle tickets and handing out sponsorship forms.