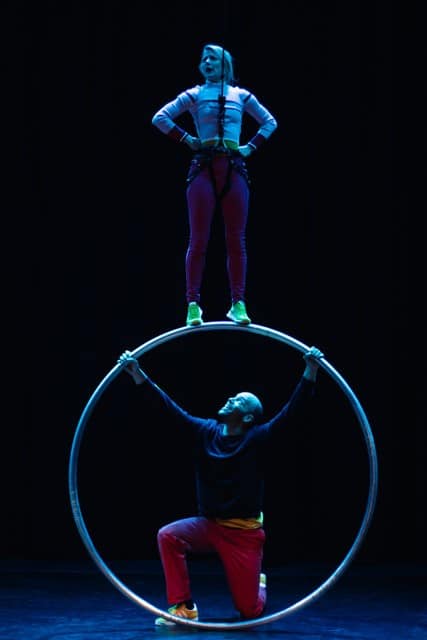 All or Nothing Aerial Dance Theatre and Room 2 Manoeuvre will tour their new show, Heroes, a fusion of breathtaking aerial acrobatics, dance theatre and contemporary circus, to the Theatre Royal Dumfries on the 19 April, 2019.
All or Nothing Aerial Dance Theatre and Room 2 Manoeuvre, two Edinburgh based dance companies, have teamed up once again for a light-hearted new touring show for all the family, featuring a stunning fusion of breathtaking aerial acrobatics, dance theatre, contemporary circus and visceral choreography.
Heroes, the humorous journey of two performers, Tony Mills and Beverley Grant, as they navigate their way through the unforgiving world of idols, superheroes and celebrity culture, will tour to 17 theatres and venues throughout Scotland from Saturday 23 March to Saturday 27 April 2019. (Full venue listings below)
Heroes video trailer – https://vimeo.com/296503307
Heroes delves deep into the worlds of idols and idolisation, celebrity and celebrity culture and heroes and superheroes; investigating what characterises a celebrity, who society's hidden superheroes really are and why we are compelled to idolise them.
Asking some profound universal questions with humour, straight talking and lots of graceful, intense and symbolic aerial and circus movement, the performers examine what it really means to be labelled a celebrity, why some will stop at nothing to achieve it; and the process of being thrust into the spotlight and the dramatic and ruthless fall from grace that often results.
Building on the success of their last collaboration, a dance duet called Sprawl, Tony Mills of Room 2 Manoeuvre and Jennifer Paterson of All or Nothing Aerial Dance Theatre, two of Scotland's most prolific companies working in the world of physical performance, rekindle their successful creative partnership, this time adding talented dancer and aerialist Beverley Grant into the mix.
The Heroes tour has been made possible with funding from Creative Scotland and support from The Work Room, The Brunton Theatre, Platform and Irish Aerial Creation Centre.
Advised age for Heroes is 7 years+  
19 April – 19.30 – Theatre Royal Dumfries, 66-68 Shakespeare Street, Dumfries DG1 2JH – Tickets £9 / Concession £7 / Family £28 – Box office – https://theatreroyaldumfries.ticketsolve.com/ – Website https://www.theatreroyaldumfries.co.uk/whats-on/heroes
Comments
comments