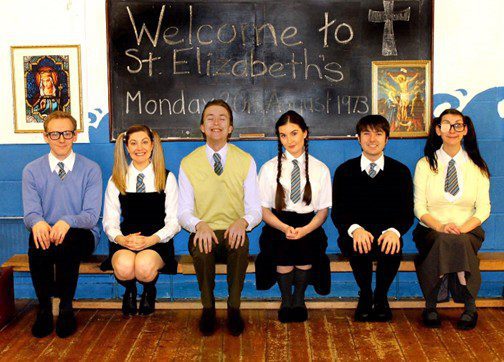 The Horsehead Theatre Company are heading to Scotlands oldest working theatre, the Theatre Royal in Dumfries on June the 8th with their show "A Tale Etched In Blood And Hard Black Pencil".
One of the cast described what is in store "When a double murder reunites the classmates of St Elizabeth's Primary School, scores are settled, debts repaid and alliances forged.  Twenty years have passed but will those bonds still hold fast?" 
In this hilarious Scottish black comedy, Horsehead Theatre takes a nostalgic look at school days, filled with psycho teachers, class jokers and playground feuds.  All set to a cracking 70s/80s soundtrack!
Following their 2017 sell-out run at Edinburgh Fringe and at "Bloody Scotland", International Crime Writing Festival, Horsehead Theatre are touring Chris Brookmyre's, "A Tale Etched In Blood And Hard Black Pencil" in 2019.
They continued "Award winning author Chris Brookmyre is a fan of our show, calling it "an utterly brilliant adaptation".
Warning – this play contains very offensive language and scenes of a sexual nature.  Suitable for age 14yrs+ only.
Theatre Royal Dumfries – June the 8th 2019. Doors open 7.00pm – show starts 7.30pm
Tickets: £12 (£10 Concession) – Click here to Book