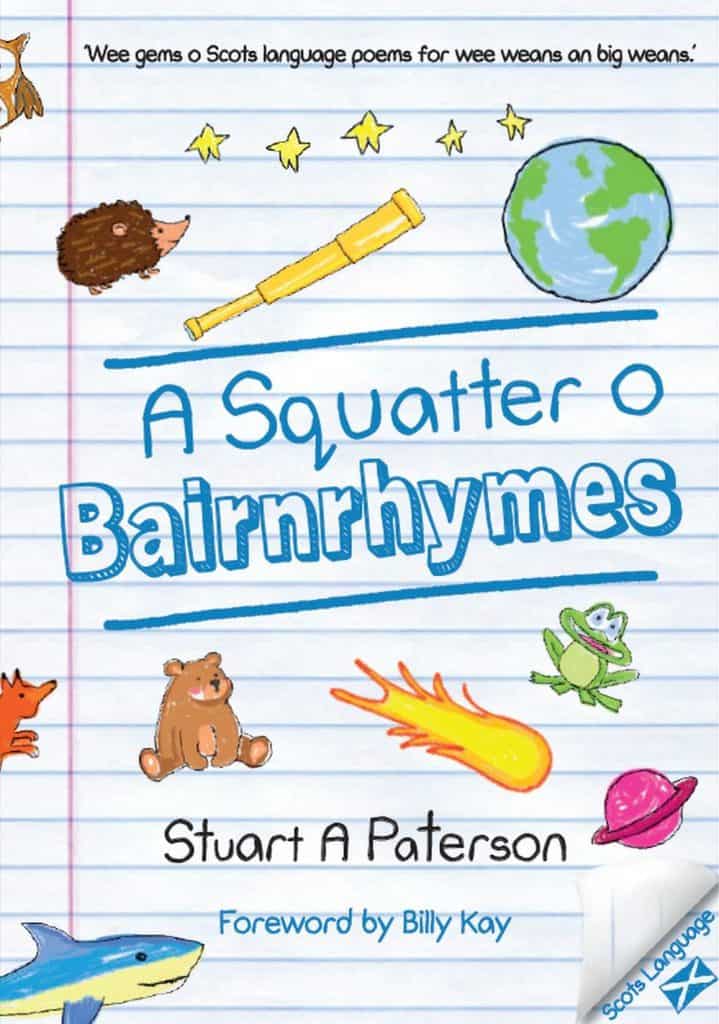 A Squatter o Bairnrhymes is a collection of amusing and clever poems and bairnrhymes written in Scots by Dumfries and Galloway poet and performer Stuart A Paterson.
A funny, wonderful, and thought-provoking collection. The book comprises some 25 poems with a supporting glossary. A Squatter o Bairnrhymes is ideal for children of all ages – adults too – but is also perfect for teaching Scots language in schools. It is fully illustrated (by Zack Fummey) to make learning Scots fun and has a foreword by Billy Kay.
Stuart divides his time between Dumfries & Galloway and Edinburgh as well as having connections across Scotland and Ulster. A Squatter o Bairnrhymes follows in the great tradition of poet William Soutar and his illustrated volume, Seeds in the Wind. The book is lovingly illustrated by a young artist Zack Fummey whose sensitive and diverse portraits are very relevant to this time.
Stuart is one of Scotland's best-known poets. He was BBC Scotland's Poet in Residence (2017-18) and Poet in Residence with the Scots Language Centre (2015-16). In 2019, Stuart was Visiting Lecturer in Language at Rhodes University, South Africa, and led Scots Masterclasses at Northern Ireland's Ulster Scots Language Week. He works for the Scottish Qualifications Authority as an External Verifier to schools delivering the Scots Language Award. Author of several collections and widely published and filmed worldwide, Stuart received an Eric Gregory Award from the UK Society of Authors (1992) and a Robert Louis Stevenson Fellowship from the Scottish Book Trust (2014).
'Stuart is a brilliant poet, who can make his readers and audiences laugh, gasp, even shed a tear, with the power and beauty of his words.' Janice Forsyth, BBC Radio Scotland
A Squatter o Bairnrhymes is 'a joyous cascade of words and images.' Kevin McKenna, The Observer
'Wee gems o Scots language poems for wee weans an big weans.' Billy Kay, writer and broadcaster 
A Squatter o Bairnrhymes
Author Name
Stuart A Paterson
Month/Year of publication
July 2020
Publisher
Tippermuir Books Ltd
ISBN
9781916477872
Page Extent
110 pages
Genre/BIC Code
Children's/Teenage Poetry, Anthologies, Annuals (YD) – Poetry (Children's/Teenage) (YDP).