Scottish multi-Award Winning Band 'SKERRYVORE' Bring there 2015 UK tour to the 'Easterbrook Hall', Dumfries this October 17th  7:30 pm –  11:00 pm. 
When Skerryvore first formed in 2005, little did they know they'd be in a position to celebrate a decade together in 2015!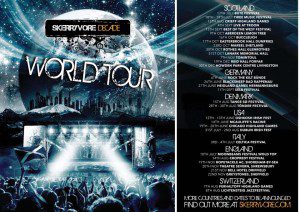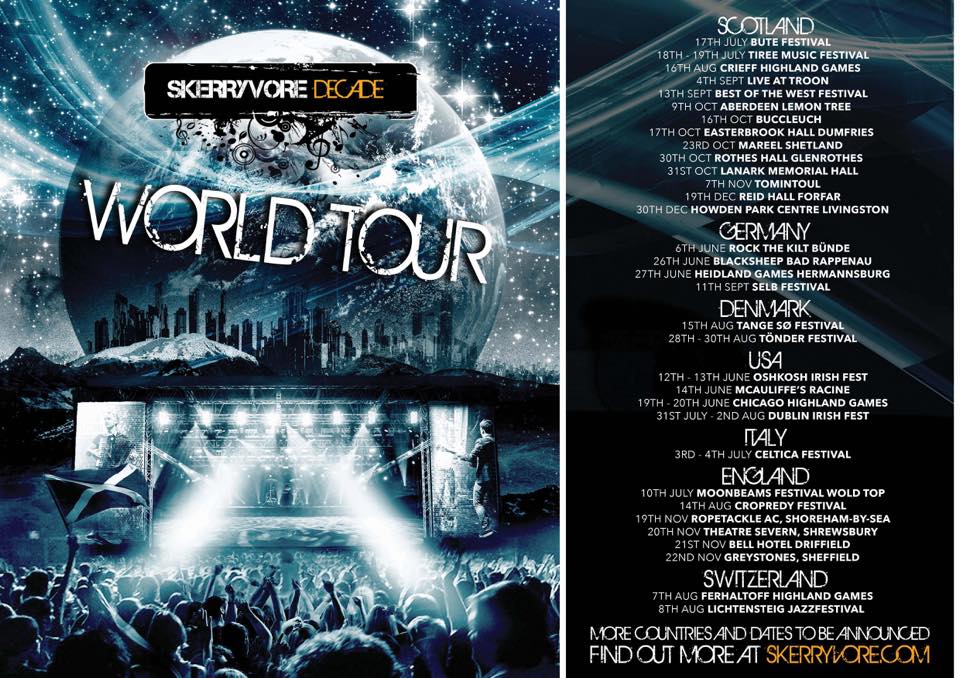 Tiree-born brothers Daniel Gillespie (accordion) and Martin Gillespie (bagpipes, whistles & accordion), Fraser West (drums & vocals) and Alec Dalglish (lead vocals & guitar) brought a mix of musical styles and sounds together for the band's 2005 debut album, 'West Coast Life.' The more the fledgling band experimented with fusing together their mix of musical styles, the more the band and their signature sound evolved, expanding to their current 7 piece lineup, including Craig Espie (fiddles), Alan Scobie (keyboards) and Jodie Bremaneson (bass.) Along the way, the band brought out their second album, 'On the Road' in 2007, but it was with the release of self-titled third album, 'Skerryvore', that the band found themselves catapulted into the musical limelight winning a string of prestigious awards, including SNMA Record of the Year 2011 and STMA Live Act of the Year 2011, and garnering much critical acclaim: "Skerryvore are the most promising young band in Scotland today" Mick MacNeil, Simple Minds To quote the words of one local journalist: "Six of the best musical ambassadors Scotland could ever have wished for… a living, breathing, l2 legged party waiting to happen." The Falkirk Herald, Scotland In June 2012 the band released what was at the time their most polished and radio-ready album to date.
[vc_video link="https://www.youtube.com/watch?v=HrXylGb2qL0″]
'World of Chances' weaves together the band's spine-tingling musical talents with the award winning songwriting abilities of frontman Alec Dalglish (Frankie Miller Songwriter of the Year 2011). At times uplifting, at times reflective, the result was a brighter, breezier, feel good sound that helped to broaden the band's appeal even further. On 1st September 2014, Skerryvore released their latest album, 'Chasing the Sun,' and this was quick to receive numerous accolades: 'This is their most complete and mature album to date…that album's a cracker!' (Phil Brown, BBC Radio Lancashire) 'The sound of Young Scots Power Folk.' (Mark Radcliff, BBC Radio 2) 'A fabulous set of songs, beautifully produced. Highly recommended.' (Scots Magazine) 'Chasing The Sun is a brilliantly realised, polished and accessible piece of work.' (Rob Fearnley, FATEA Magazine Website)
The band tour extensively and have performed in over 25 countries worldwide including USA, throughout Europe, the Middle East and China. When not touring the different corners of the globe, the band can still be found performing relentlessly, contributing to projects by Live Music Now (LMN), The Royal Blind School, Artlink Central and HMP Cornton Vale, as well as special needs and mainstream schools throughout the UK. They also featured in a recent VisitScotland TV commercial aimed at international audiences. 2015 marks the 10th Anniversary of Skerryvore, and they released a 'Decade' album – a mix of live recordings, live studio session and single 'Happy to be Home' featuring Sharon Shannon – to coincide with their major Decade event in May at Mossfield Park in Oban, enjoyed by an audience.
Tickets for the evening – Price: £15.00 + £1.00 Booking Fee – Tickets available at the mid steeple booking office – 01387 253383