There will be everything from a pop-up planetarium to scientific stand-up at this weekend's Big Bang festival in Wigtown.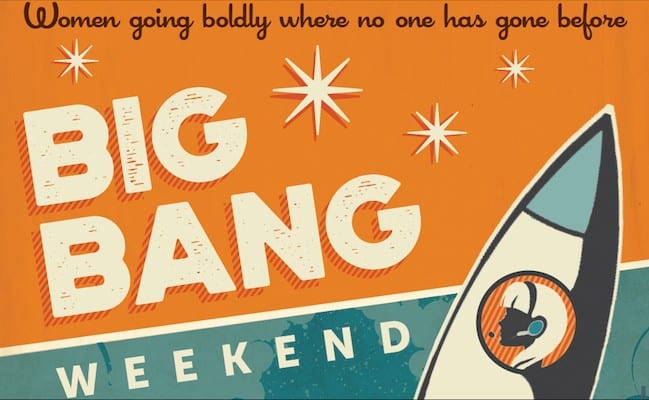 One of the stars will be US comedian Jono Zalay who has attracted international attention for his gentle mocking of American bureaucracy by giving himself bizarre new looks when he has to send off ID photos for his driving licence (see attached Q&A).
Jono is a PhD neuroscience researcher and his comedy is largely about science.
He is very much looking forward to flying in from LA for the event and said: "When I was invited to the Big Bang Weekend I leapt at the chance. I loved the idea of a festival bringing together art, science, literature, music and comedy in Scotland's National Book Town.
"The whole theme of 'Is It Alive' really appeals to me, both as a comedian and as a former scientist, and I also love the way it's been developed to appeal to people of all backgrounds. And potentially dolphins and bonobos. Children as well, as one of my own appearances will be specifically family-friendly."
He will also be the MC for a number of talks and events and will be involved in the Science Happy Hour where the audience can enjoy cheese, wine and cocktails with some remarkable people including:
Dr Jane Greaves, Hoyle Prize winner, who is an expert in what kind of planets could hold alien life.
Dr Erika Szymanski, a University of Edinburgh expert in engineering life
Professor Sharon Ruston of Lancaster University who will be talking about Mary Shelley's Frankenstein
And Dr Subramanian Ramamoorthy who is involved in creating thinking machines, driverless cars and robots.
Much of the The arts, literature and science weekend is family friendly, including the thinkScience planetarium show and the Glasgow Science Centre's BodyWorks exhibition. There will also be science and arts demonstrations by Lynsay Forsyth of Science Connects, which encourages interest in science, technology, engineering and maths.
Jessica Fox, Festival Director, said: "As Scotland's National Book Town Wigtown is the perfect place to bring together literature, art and science in an event that will hopeful inform, educate, entertain and inspire people of every age.

"We will be having world-leading scientists here to talk about the latest research into everything from life on other planets to creating machines that think for themselves. There will also be a special appreciation of James Clerk Maxwell, one of the world's greatest scientists, who came from Galloway.

"As we are right next to Galloway's Dark Sky Park, which people come to from across the world to stargaze, we are really delighted to be having a planetarium show that introduces people to the wonders of the universe.

"Scotland has a fantastic tradition in the sciences and is at the forefront of so much of today's most exciting research. This weekend will not only share some of what is going on, but we hope it will inspire a new generation to take up the baton and consider careers in science."
This year Big Bang focuses on the mechanics of life and asks the question is it alive? The event takes place from 2-4 February.
About Big Bang
Talks include:
Why do robots need common sense? Dr Subramanian Ramamoorthy, University of Edinburgh School of Informatics, to explore the future of intelligent machines.
Life and death in Mary Shelley's Frankenstein: Sharon Ruston, Professor of English Literature at Lancaster University, reveals the science behind the novel and the anxiety it spawned.
Life in the cosmos: Cardiff University astronomer Dr Jane Greaves looks at other worlds and which ones are home to aliens.
Being alive at very small scales: The University of Edinburgh's Dr Erika Szymanski delves into the world of microscopic life forms – and how Scotland's world-beating studies in synthetic biology can solve our biggest health challenges.
Stuart Kelly, the author, critic and Wigtown Book Festival favourite will also be discussing the life of Dumfries and Galloway's James Clerk Maxwell, one of the world's greatest scientists.
Other Big Bang weekend events and activities include:
Comedy from Dr Jono Zalay
The spectacular thinkScience Planetarium Show
The Big Bang Pub Quiz
DNA and Danish pastries – special guests, chat and music from the Bookshop Band
Children's activities sponsored by the science festival
Science cabaret and film – the Silent Signal animations.
Paula Ward, VisitScotland Regional Director, said: "The Big Bang Weekend is an exciting addition to the events calendar in Dumfries & Galloway and is sure to attract more visitors to the region, further raising the profile and reputation of the region as one of Scotland's strongest regions for festivals and events.
"Events like this provide a boost to the local visitor economy by enhancing our region's tourism offering and showcasing the very best of what the region has to offer all year round. I hope as many local people and visitors from further afield will be able to come along to enjoy the great programme on offer."