Explore a Prehistoric Wonderland at Dino Park in Carrutherstown, Dumfries and Galloway, as it Reaches a Momentous Milestone
Dino Park, the cherished destination for dinosaur enthusiasts and adventure seekers, is thrilled to announce its 10-year anniversary.
For an entire decade, this captivating park has transported visitors of all ages back in time to an era when dinosaurs roamed the Earth. With a commitment to education, entertainment, and unforgettable experiences, Dino Park has become a must-visit attraction for families and dinosaur enthusiasts alike.
Unveiling the Prehistoric Wonders: A Decade of Adventure
Since its opening in 2013, Dino Park has continually captured the imaginations of visitors with its life-sized dinosaur exhibits, immersive environments, and engaging activities.
Nestled amidst the stunning landscape of Carrutherstown in Dumfries and Galloway, this prehistoric wonderland has welcomed thousands of visitors over the past decade, leaving them in awe of the majestic creatures that once ruled the world.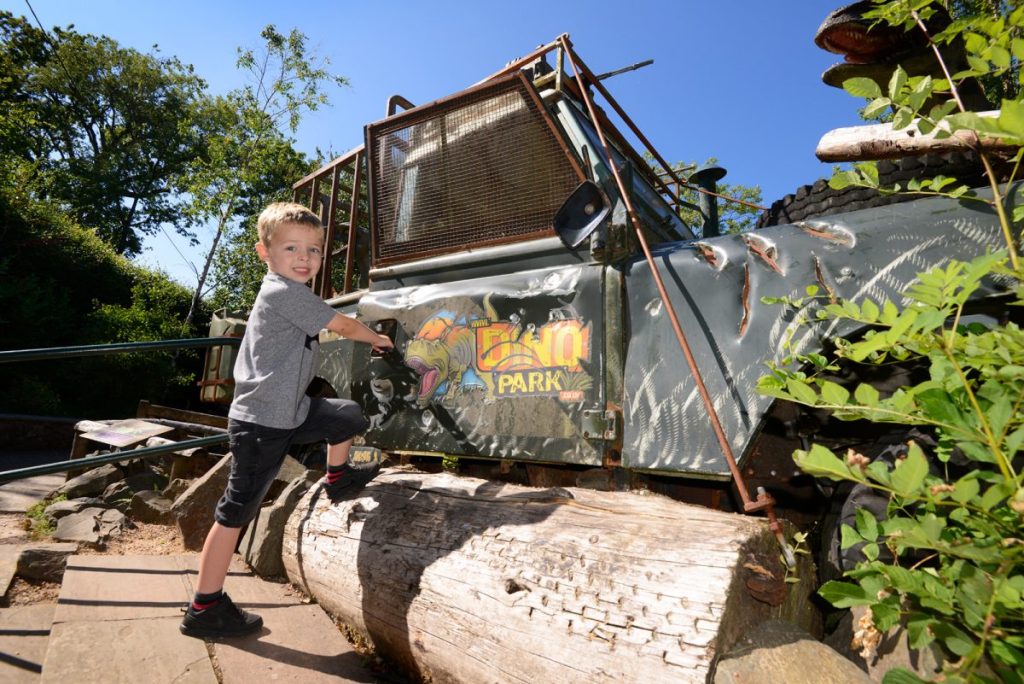 A Journey Through Time: Immersive Experiences Await
At Dino Park, guests embark on an extraordinary journey through time, encountering a wide variety of dinosaur species along the way. From towering Tyrannosaurus rex to gentle Triceratops, each meticulously crafted exhibit showcases the fascinating diversity of these ancient creatures. Walk under the arched necks of the gigantic brachiosaurs and make sure you spot the T-Rex before he spots you.
The park has rolled back the mists of time with huge model dinosaurs in a leafy labyrinth, providing a family fun day walking through prehistory.
Education Meets Entertainment: Engaging Activities for All Ages
What sets Dino Park apart is its commitment to providing a blend of education and entertainment. Visitors not only witness the awe-inspiring dinosaurs but also have the opportunity to participate in exciting activities. Become a dinosaur hunter and reveal fossil bones hidden in the sand, identifying your finds. Enter the Dino-Mine to discover the secret deep inside and experience the anticipation as the towering water volcano could erupt at any moment. Sneak past the Triceratops family and spot the wrecked Land Rover that was transporting the latest exhibit to the park.
The park offers a range of interactive experiences that ignite curiosity and create unforgettable memories.
A Family Fun-Filled Adventure
Dino Park is designed to cater to visitors of all ages. Children and adults alike can enjoy the thrill of climbing, scrambling, and sliding at the Tree House.
The Tree House features platforms, walkways, and netting, providing loads of fun for everyone. After a day of exploration and adventure, make sure to stop by the gift shop and take home a souvenir of your visit, keeping the memories of Dino Park close at hand.
Join the Adventure: Explore Dino Park's Timeless Magic
"Dino Park's 10th anniversary is a testament to the support and enthusiasm of our visitors over the years," says David Wilson, the owner of Dino Park. "We are grateful for the opportunity to educate and entertain thousands of guests while fostering a love for science and discovery. We look forward to continuing this journey and inspiring generations to come."
Join Dino Park in celebrating its 10-year anniversary and indulge in an adventure like no other. Whether you're a dinosaur enthusiast, a curious learner, or a family seeking unforgettable memories, Dino Park promises an experience that will transport you back in time.