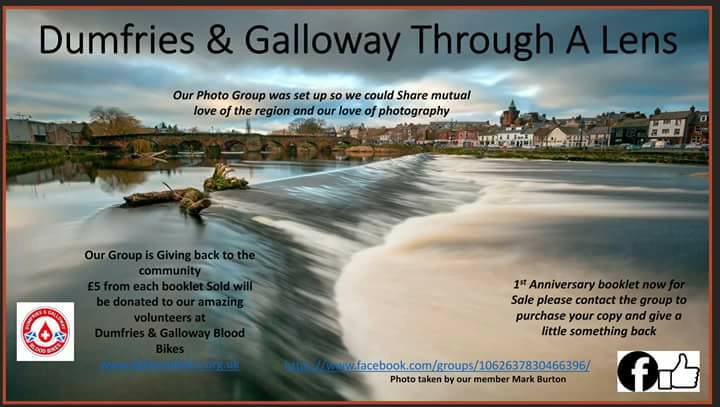 Founder of Local Facebook group 'Dumfries & Galloway Through a lens', Jade White, wanted to celebrate the first year of her successful photography page using some of the members images of the Dumfries and Galloway region to support a local charity. A booklet containing 50 images taken in D&G was put together, and the profit from the sales will go towards supporting Dumfries and Galloway Blood Bikes.
Jade told DGWGO "I created Dumfries & Galloway Through a lens nearly a year ago 12th March is our first anniversary, I returned back to my home after being away over thirty years, bought an old cottage and settled back in to rural life well, I live in Penpont and the walks around the region just took my breath away so out came the camera. I then thought I would set up a little Facebook group with my friends to share images of our gorgeous region. It has grown and grown, we have weekly themes a topic for people to go out and take pictures, the group is very interactive so we all choose or run polls so we all make decisions."
"We also hold photography walks – this Sunday we visited the Eskrigg Nature Reserve, there were about 20 of us in attendance, some people don't have transport or have difficulties so I go and pick them up. It means they can join in."
Jade went on to say "The group has grown so much I had to get some help so I have two admin ladies Sheila Stubbs and Pauline McCreadie, who help assist with all the approvals and interactions."
"With the groups anniversary arriving I wanted to do something to mark the occasion, Dumfries & Galloway Through a lens now has over 600 members, I am so impressed by the talent we have in our region. So upon talking to another member 'Mike Howes', who is a super active member, he told me he had been working on a project for a photo book and he sent me the link.
I wanted to give back to our region, so I ran a poll to the group and asked them to list local charities they would like to help, The winner was Dumfries and Galloway Blood Bikes who are a lifeline literally for our region and beyond. So then I had to devise a plan, the cost of the booklet was 8.95 + postage, I thought if I add £5 to every book then we could give that £5 to the Blood Bikes, so booklets are £15.00 each copy but £5 is going to blood bikes. We have currently sold 40 so far."
"Group admin's and myself chose the photos – we have tried to add as many members images in the booklet as possible, with various themes and perspectives, it really is looking amazing.
Our aim is to sell as many booklets as we can to give a little bit back and celebrate our first year by helping someone else. We are lucky to have an amazing group of members that are enthusiastic, caring supportive and compassionate."
We have a cut off date for all orders 17th Feb. Anyone who is interested in ordering a copy can email jadewhite71@yahoo.co.uk. Once all orders are in I will contact individuals with banking details and to collate.
Comments
comments