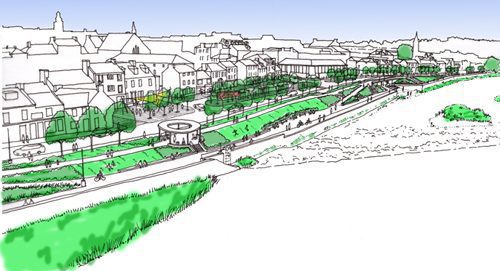 The Whitesands Project has two main aims, regeneration and flood protection. These aims were established in 2011 when Councillors agreed that the Whitesands project should not be seen in isolation but as "balancing flood risk reduction with the aspirations of improvements in the public realm."
In the development of this project, public consultation and engagement has been at the forefront, with the embankment and wall coming through as the preferred option based on the 5-day public consultation (charrette) in 2012.
The presentation of the proposals in 2013 were favourably received with many pleased to see the space being changed from car parking to green open space, cycleways and walkways with greater emphasis placed upon creating a pleasant environment adjacent to the river.
The Whitesands project is still very much at a consultation stage and the final design has not been decided upon. There is a public exhibition on the Whitesands project at the former Baker's Oven in Dumfries next Monday and Tuesday.
The cost of the embankment and wall combination to tackle flooding is in the order of £7.1M. However neither an embankment and wall combination or "floating barrier scheme" on its own would prevent the other cause of flooding in the area- surcharging from the sewer and watercourse networks. The council proposal therefore includes investment of £1.9M to tackle this problem as this work works would be required as part of any workable flood protection scheme.
The wider regeneration of the Whitesands area as part of the project would cost £5.8M and would include improvements in surfacing, a centre-piece footbridge at the Sandy Opening, step-free access to Devorgilla Bridge, additional car parking, public toilet removal and reinstallation and other architectural features e.g. new street lighting.
The embankment and walling option has also been designed to avoid working in the river or in close proximity to the riverside walls for the following reasons:-
Numerous challenges and risks, including pollution spills, exist when constructing flood defences in a river, and these risks remain in future maintenance works.
Retaining the riverside path is crucial and avoids placing unnecessary force on the existing walls, which may have to rebuilt or reinforced with concrete to work in conjunction with a floating barrier scheme.
Complex environmental licencing from bodies such as the Scottish Environment Protection Agency (SEPA) and Scottish Natural Heritage (SNH) would be required if significant engineering works were undertaken in the river. Given the presence of protected species such as the Common Otter, advice we have received indicates that it's unlikely the necessary licences would be granted while a flood protection option that does not require significant in-river works exists.