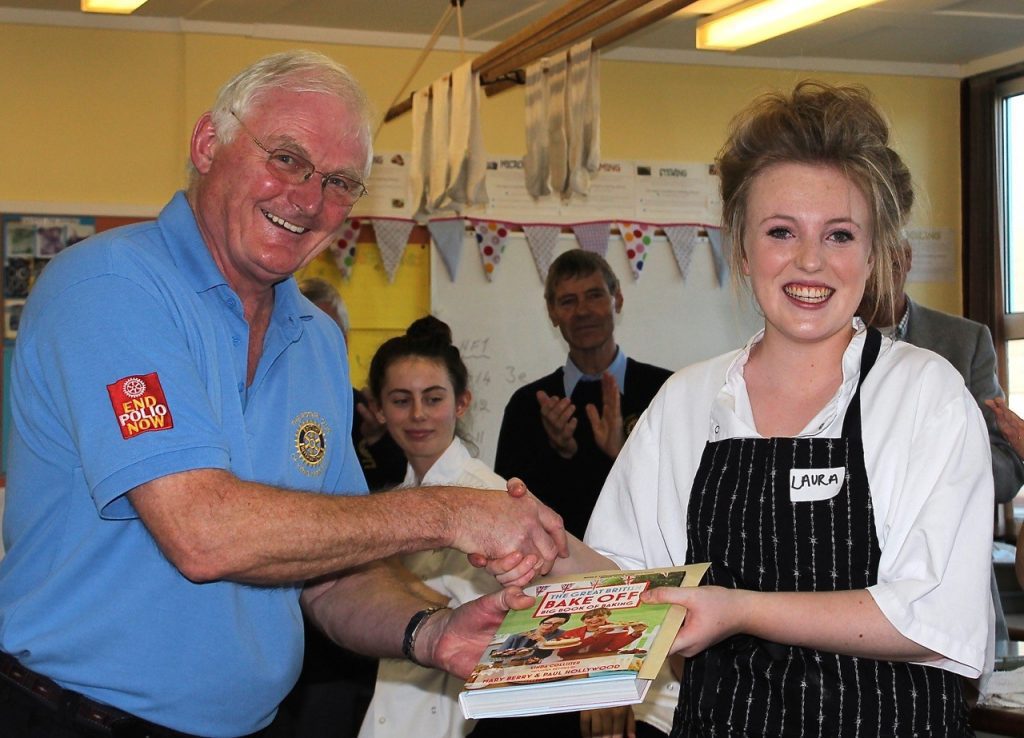 Laura Brown( Main Photo) from Douglas Ewart High School Newton Stewart gained first place in The Rotary Young Chef Area Final competition organised at Kirkcudbright Academy on 2nd December 2014 by the Rotary Club of Kirkcudbright.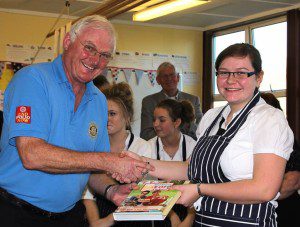 Runner up was Ailsa Morton from Wallace Hall Academy Thornhill, and third was Toni Swan from Moffatt Academy. Ten finalists representing schools across Dumfries & Galloway took part in a very well matched competition to cook a healthy two course meal for two people. Very few marks separated all ten contestants.
Laura's menu was "A Taste of the Sea" – locally sourced, pan seared sea bass on a bed of fennel and lemon risotto with a dill dressing; "Chocolate Mousse Duo" – a light, delicate chocolate mousse served with balsamic strawberries topped with spun sugar.
The competition was judged by Tom Kirkpatrick, well known local celebrity chef and Martin Avey from the celebrated and popular Del Amitri Restaurant in Annan. The judges were truly astounded by the dishes produced by the students and they commented on the extraordinarily high standard of the competition. They were also impressed by the skills and application shown by the students. There is no doubt that the Home Economics Department at all the schools are to be congratulated for developing such talented young chefs.
The Rotary Young Chef Competition was created to give young people the chance to show off their creative culinary talents, to promote healthy eating and to learn important life skills. The young chefs are judged on their healthy menu, planning and organisational skills, hygiene, preparation skills and, of course, the taste and presentation of the final dishes.
The winner, Laura and runner up Ailsa, will now go through to the next round, the Rotary District Competition, which will be held at West Lothian College, Livingston on 31st January 2015. This stage is then followed by Regional and finally a National competition.
President Colin MacLaine presented the prizes and certificates and thanked Kirkcudbright Academy for hosting the event.