Statement by Kirkmahoe Against Pylons
 Residents and businesses in Dumfries & Galloway have been shocked to learn of a proposal by Scottish Power Energy Networks (SPEN) to build a high voltage line of "super pylons" across the region from Auchencrosh in Ayrshire to Harker in Cumbria.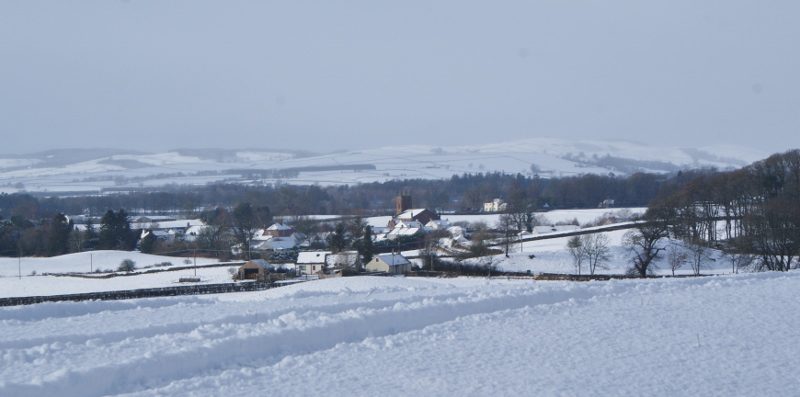 Kirkton-in-the-snow
The Man behind an online petition against these pylons 'David Howdle' contacted DGWGO this week David said –

" These "super pylons" will be 50 metres (164 feet) high in order to carry electricity lines suitable for transporting up to 400kv. They will be amongst the biggest in the UK. They will be visible from miles away. It is not clear that this proposed pylon line is actually necessary. It certainly has no benefit for Dumfries & Galloway. Anyone wishing more information should read Mr Alan Jones blog at dumgalagainstpylons.org."
" Other options are available to SPEN if they wish to have the capacity to transport electricity from Scotland to England. In particular they can install the lines underground and under the sea. They should do so in order to protect the beautiful Dumfries & Galloway countryside.  At a time when the National Grid is taking steps to reduce the impact of pylons in areas of outstanding beauty in England and Wales SPEN seems to be proposing the opposite!"
David goes on to say " Scottish Power Energy Network's  consultation process got off to an unimpressive start. The leaflet sent out by them seemed to many people to be junk mail and was binned. The "consultation" took place during the early part of the summer with only about a three week period (after the public displays by SPEN) allowed to give feedback. Through the actions of some community councils and politicians the deadline has recently been extended to 31 August 2015. "
If you wish to feed back your views to Scottish Power you can do so via their online feedback form.
"Elected representatives at all levels have been contacted in order to let them know of concern about the proposal. Richard Arkless MP has stated that "I have been contacted by a number of constituents on this topic and I have a meeting scheduled with my colleagues Joan McAlpine MSP and Aileen McLeod MSP in the near future. We share your concerns and are meeting to agree our approach towards SP Energy Networks proposals". That is encouraging."
An online petition has been set up on 38Degrees.com to allow anyone who is concerned about the proposals to make their views known.
David Howdle said "The proposed pylons will be massively visually intrusive in what is one of the few beautiful, unspoiled parts of the UK left. They will harm the environment and local wildlife. They will be hugely damaging to the tourist sector in Dumfries and Galloway, a key driver of the local economy. The pylon line will seriously affect house values and the ability to sell houses for miles around due to its size and visual impact. Other alternatives, such as putting the line underground or under the sea, are available and should be adopted".
Article and pictures supplied by David Howdle