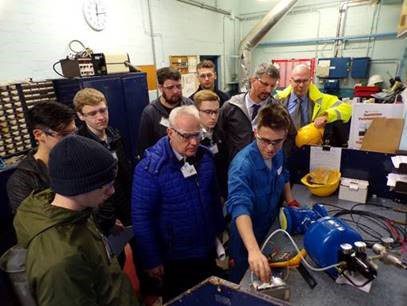 A team of HND Electrical Engineering students from Dumfries and Galloway College have enjoyed a visit to a polymer production plant.
The DuPont Teijin Film Corporation, a significant local employer in the South of Scotland, invited the six students to their facility at Cargenbridge in Dumfries to gain some first-hand knowledge of how its polymer products are made.
David Houston, a one-time student at Dumfries and Galloway College and now Operations Manager at the polymer production unit, organised the tour.
His colleagues, Stuart McWilliam, Kyle Johnston, and Liam Robertson led the tour which explained the various plant and systems at the complex site.
The students also took a tour of the electrical workshop, led by Mr Robertson, during which he demonstrated the uses of different pieces of test and control equipment.
Dumfries and Galloway College is grateful to DuPont Teijin Films, David Houston, and everyone behind the informative and educational tour for organising such a valuable opportunity for its students.
Dumfries and Galloway College Principal, Joanna Campbell, said:
"We are very grateful to DuPont Teijin Film for welcoming our students to their plant and for providing such an informative and educational tour.

"Real work experience of this kind is extremely valuable in helping our learners decide in which direction they want to go in their future.

"We are proud to have a strong relationship with such an important local employer as part of our commitment to being productive players in our region."