The well-known Dumfries and Galloway wedding and events venue GG's Yard, accommodation Sea View Snugs and soon-to-be bistro Gather will soon sit under the name Laggan. 
Formerly an activity centre, the site is now home to luxury event and wedding venue GG's Yard, stylish accommodation Sea View Snugs and is due to open the bistro Gather in October. The family run business near Gatehouse of Fleet aims to develop its brand by bringing all three businesses together under one brand.
As Laggan is launched, GG's Yard, Sea Views Snugs and Gather will keep their individual identities as they each offer a different experience, but will all sit under the Laggan brand.  The event space at Laggan, GG's Yard, will continue to host weddings and corporate events.  Launching in October, Gather at Laggan will provide visitors and locals with delicious bistro style meals with outstanding views of the Solway Firth. The Sea View Snugs at Laggan will continue to provide visitors with unique and stylish accommodation.
Laggan Outdoor Activity Centre will be closing its doors on the 1st November but Laggan will still be a magnet for tourism in the region through its onsite accommodation and bistro.  All three facilities have adapted its operations in accordance with government guidance to be COVID safe since re-opening.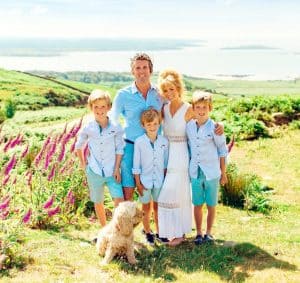 Duncan McConchie, owner of Laggan said "We're excited about what the future has in store for Laggan, Laggan is a destination of excellence, bringing people together over things that matter the most – a place where people can spend time with their friends and family, whether that is enjoying a getaway, celebrating a wedding or soon enjoying a meal out together. Our guests often make use of lots of facilities once they are here – so it makes sense to launch one identity for all three businesses.

Whilst we're sad to say goodbye to the activity centre, we are unique in that we offer visitors a range of experiences in Dumfries and Galloway, all in one beautiful setting. We look forward to offering visitors this unique experience in a safe and welcoming environment."
The development of Laggan has been a family run business from the very beginning with even the logo and artwork behind the new brand being hand drawn by owner Vicki McConchie. The individual social media pages will be closed with Laggan leading on social and there will be a new website showcasing Laggan's features; Gather, GG's Yard and Sea View Snugs.
New dining experience, Gather, is now taking reservations for its October launch.
A glass-fronted restaurant offering diners sensational sea views and a brand new dining experience in the region is set to open mid October. Gather is the latest addition to Laggan, the rural destination of excellence near Gatehouse of Fleet and will provide visitors and locals with delicious bistro style meals.  The restaurant is now taking reservations ahead of its launch on 18th October.
Head Chef Murray McDavid will be leading the team and menu design. With over 10 years of kitchen experience, a travelling stint across the world resulted in four years working in Australia and New Zealand, allowing him to learn and adopt a modern cafe dining culture. These international flavours and dishes will be reflected on Gather's menu.  Gather will be open Monday – Thursday 9am – 7pm and  Friday – Sunday 9am – 9pm.
Gather will feature the main dining room with floor to ceiling windows overlooking the Solway Firth which can also be enjoyed from the outdoor seating area complete with a fire pit and heated seating.  There will also be a private room that can be hired for functions and events seating 12 diners.   Gather will be the perfect venue for locals, wedding guests and holiday makers to connect with each other and enjoy each other's company.
Duncan McConchie, owner of Laggan said: "We're very excited to bring a new offering to our community and visitors.  Here at Laggan we connect people with each other, with themselves, with nature and with life's simple pleasures. Whether that is celebrating a birthday or catching up over brunch or having a bit of 'me' time with a coffee,  we are now able to offer a base for people to get together and enjoy the good times in a beautiful setting.  Gather is a place where good food and good views nourish the soul. 

We look forward to opening up our doors and providing diners with a taste of the region. We want our visitors to feel safe and know that our team has worked hard to ensure Gather complies with all Covid-19 regulations."

The interior has been designed by Vicki McConchie, owner of Laggan who comments: "Gather has been designed to offer visitors outstanding views and tastes of Dumfries and Galloway, with a contemporary and rustic feel.   From reclaimed oak table tops with natural grooves and notches to stand out stylish pieces such as industrial zinc sideboards and country themed artwork, we wanted to create a trendy look with a warm and welcoming ambience."
Diners can reserve their table by emailing gather@lagganlife.co.uk.  The latest Gather news and events can be found on the Laggan website which will launch 1st November.  In the meantime, visitors can find out more information at www.ggsyard.co.uk.