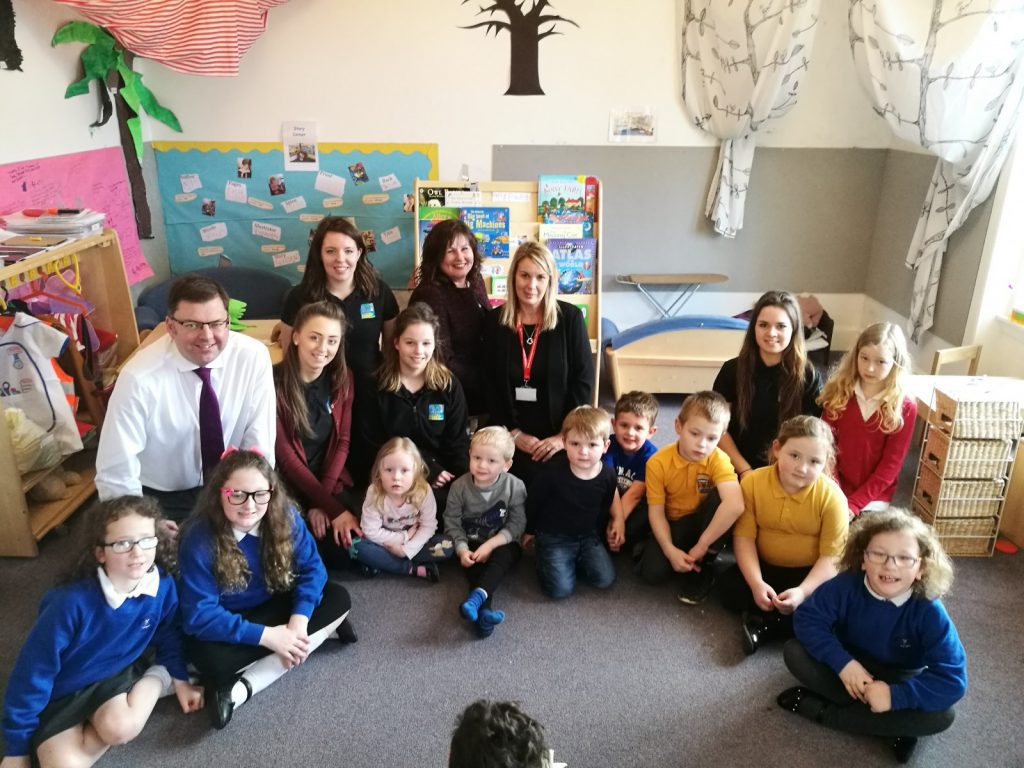 Colin Smyth MSP, South of Scotland has been out in Dumfries and Galloway visiting local businesses to promote Modern Apprenticeships (MA) and the impact they have in our economy.
Coinciding with Skills Development Scotland's 'Apprenticeship Week' which celebrated and promoted businesses to get involved and see the benefits of employing a modern apprentice.
The national campaign encouraging more employers to take on apprentices and more young people to consider work based learning takes place from 6 to 10 March.
Organised by Skills Development Scotland (SDS), Scottish Apprenticeship Week highlights the benefits for businesses that have decided to invest in the skills of their employees.
Colin visited Treasure Island Nursery, a local nursery in Castle Douglas where met the management team and the Modern apprentices going through their training. MA's work whilst earning qualifications, allowing participants to gain employment and train to progress their career.
The nursery has employed 4 modern apprentices over the last 5 years and the model has been hugely successful with all either gaining full time employment or leaving with new qualifications.
Businesses in Scotland employed a record number of apprentices last year as more than 25,500 young people got the chance to work, learn and earn.
New Foundation Apprenticeships mean young people can now start a Modern Apprenticeship at school while Graduate Level Apprenticeships provide employees with work based learning opportunities to degree level.
South Scotland MSP Colin Smyth said,
"It was great to visit Treasury Island Nursery not just to see the great work they do as a local nursery but the employment and training opportunities they provide for modern apprentices.

 

Often people just think about University and Colleges when it comes to further and higher education or training. However, in Dumfries and Galloway we have a wealth of local businesses like Treasury Island Nursery who provide fantastic career opportunities through Modern Apprenticeships.  

 

There is a common misconnection that MA's are only for young people but in fact anyone can apply for. It offers a route to employment and a chance to gain qualifications whilst working. It is a highly effective way to start a new career.
Not only have the MAs found employment with the business but they have gained qualifications whilst working, which will serve them their entire career.
It was great to see the success of these apprentices and I look forward to seeing their career grow. The work that Treasure Island do to grow and develop talent should be celebrated. The more local businesses that develop talent the better our economy will be".

 
Skills Development Scotland Chief Executive, Damien Yeates, said:
"We want businesses and individuals to know that apprenticeships are changing.

 

"Apprenticeships are designed by employers for employers and provide the talent they want for the growth they need to develop their workforce.

 

"Business and industry continue to invest in apprenticeships, even in challenging economic times, which is a testament to the value they see in work based learning."
Comments
comments