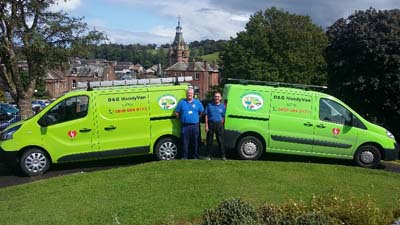 A Spokes Person from D&G Handyvan Charity told DGWGO News "In light of the current situation regarding Covid-19 which we find ourselves dealing with, we as a charity, would like to reiterate that we are open as usual to clients who need our help.

We are prioritising essential work that would allow patients to be discharged from hospital but if our clients are happy that we come into their homes to carry out small repairs, we would reassure the public that our staff are taking every precaution regarding hygiene and cleanliness whilst carrying out their duties.  Although based in Lockerbie, we are a region-wide service.

To aid with discharge from hospital we are able to supply and fit keysafes (keysafes are chargeable, installation is free) as well as supply and fit grab rails (free of charge), banister rails (client covers cost of materials) within a client's home.  We will also move furniture around the home to accommodate hospital beds or moving a bed from upstairs to downstairs to aid mobility.  Other small repairs in your home i.e. dripping taps, hanging curtains, tacking down carpets etc. can be carried out too.  This is a free service.

We can be contacted on a free phone number – 0800 069 9173 and our office hours are 9am to 4pm, Monday to Friday.