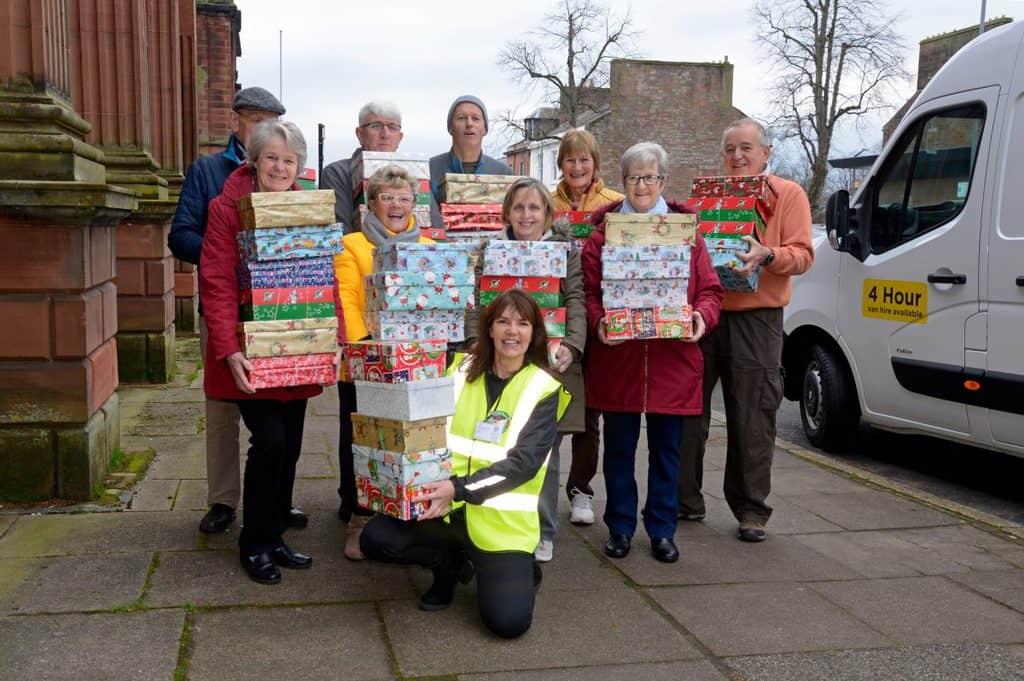 Just under 1000 boxes were delivered to the distribution centre just outside Glasgow today from our area!
One of the organisers Amanda Trotter, a business person from Dumfries spoke to DGWGO to tell us all about the appeal, Amanda said "A HUGE THANK YOU TO EVERYONE who made this possible from bringing in a shoe box, donating items to fill all our boxes, the time and effort everyone put in to this, as it's no easy task and to our drop off centres who make it possible year after year for our area to do our part.

I decided to help with this last year and become part of this amazing team purely from compassion and to give love and hope to a child who has nothing!

Thank you to everyone who brought boxes down to drop off areas who where drop off areas and to everyone behind the scenes who all worked their socks off:

• St George's Church

• Beautiful Beginnings Photography

• Kings coffee shop and River of Life Church

• Livs Hair and Beauty

• Maxwelltown Playcare

• Lochmaben Church

• St Michael's and South Church

• John Pagan and Sons

• Penninghame Parish and Newton Stewart Area

• Dumfries Baptist Church

Photo credit and thanks also to Euan Adamson who was my wing man today and helped pack and unpack all boxes.

For anyone who would like to know our boxes are heading off to Liberia this year.

Same time next year everyone but let's get that figure at least doubled as we can get more next year for sure!

Well done Dumfries see you all again in 2020.

Amanda placing the last box in the Van.

Amanda continued "Next year I am going to be looking for more drop off areas and helpers for 2020 within the whole of Dumfries and Galloway and I will be the contact person to co-ordinate and do the collections so make a big thing of we need more people onboard.

I do not belong to any church but I am doing it through compassion, kindness and with a good heart , we all need to help all those children who are living in dire conditions, in poverty or war stricken areas."
DGWGO will be bringing full information and  news about the 2020 Shoe Box appeal and how you can get involved next year.