On the 21st of April 2019, Tanya Simpson, Alex Pritchard and Gerald Thomson from Dumfries held a hair raising charity event in aid of Cancer Research UK and Guide Dogs UK.
Tanya simpson told DGWGO Community News "I wanted to organise this event to show my support for those effected by cancer and also to raise money in aid off those who are partially sighted or fully blind that need guide dogs."

Tanya continued "The reason  I organised the event was because my dad, Paul Heaton had suffered from and survived Lymphoma Cancer a while ago. However, unfortunately my partner, Alex Pritchard's dad currently has multiple terminal cancers."

Tanya said "The reason behind donating to the Guide dogs is, my Nana, Terina Heaton, who I am is very close to, is partially sighted and may one day need a guide dog."
On the night of the charity fundraiser which was held at Lochside Labour club, Tanya, Alex and Gerald all had their heads shaved. Alex also is going to be having his chest waxed next.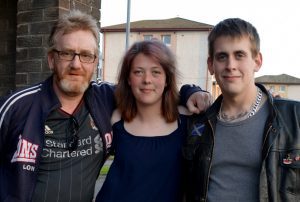 There was a raffle and tombola, horse racing and an auction of vouchers. All prizes for raffle and tombola were donated by family, friends and local businesses. The team would like to say a huge thank you for all the support.
In total a fantastic £950 was raised and will be split equally between the two charities. 
Comments
comments