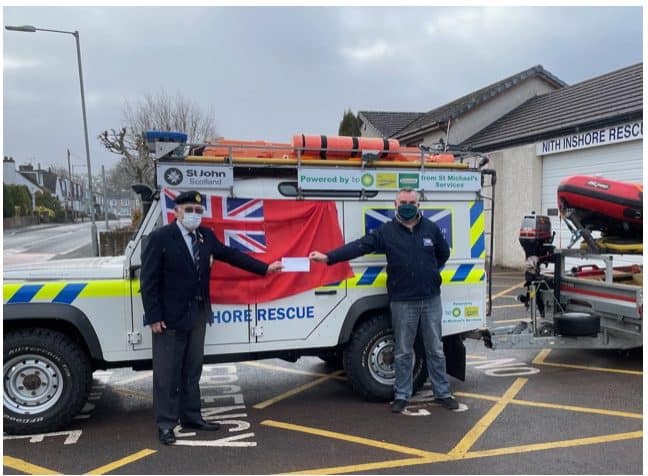 Nith Inshore Rescue was among five organisations to receive £100 donation from the Merchant Navy Association Dumfries Branch this week which also included Moffat Mountain Rescue, Dumfries Sea Cadets, Kirkcudbright Sea Cadets and Seafarers UK all receiving £100.
Capt. Arthur Murphy Merchant Navy Retired said: "The Dumfries Branch of the Merchant Navy Association are delighted to support these important charities at a time when it is harder than ever to raise funds to support charitable causes". He added: "It has only been possible to donate these funds thanks to the support of our local members".
Gwilym Gibbons, Treasurer and Crew Member of Nith Inshore Rescue said: "The Dumfries branch of the Merchant Navy Association have been long supporters of our work and we are so grateful for their continued support. As an independent lifeboat providing an inshore and inland water search and rescue service serving the Upper Solway and surrounding area it is a constant challenge to raise funds to cover our annual operating costs, for training, insurance, crew welfare and maintenance of vital equipment.
The pagers which enable crew to respond 24/7 alone cost £4,500 per year to maintain. The support of our local Merchant Navy Association and other donors is what enables us to fulfil our mission to protect and save lives, and when life is lost do everything we can to recover loved ones for those who are experiencing loss".
Gwilym Gibbons added: "The past 12 months have been tough for all charities which rely on ongoing giving to support their work. The ability to fundraise for the ongoing costs has been and continues to be restricted by the pandemic with annual fundraising events cancelled and a significant drop in charity box giving as outlets have closed. There has never been a more important time to support if you can your local charities".