Today, Friday, the 19th July 2019, cyclist Andrew Paddison will cycling through part of Dumfries and Galloway whilst on a gruelling 13 day 980 mile long journey between Lands End and John O'Groats on his hand bike to raise money for charity and show the world that the impact of thalidomide shouldn't hold anyone back.
The adventurous rider is covering the 980 miles between Lands End and John O'Groats in thirteen days, a challenge some might deem impossible for a person with shortened arms, without elbows or radii, and a prosthetic leg.
Paddisons's disabilities mean that he has to be helped on and off his bike by an assistant, and has had to make some ingenious adaptations to its power assist mechanism.
Unlike conventional electric bikes with a hub motor on the front, powered by a simple switch on the handlebars, his bionic system relies on a torque sensor to increase and decrease the power.
Two cranks, positioned side by side on the front of the bike have to be turned 360 degrees with the rider doing half a revolution before the torque sensor fires up the power. The cranks must run in parallel and never run offset to avoid damage to the rider from a twisted back.
"I could have installed a switch-powered motor," explains Paddison, "but where's the effort in that? I wanted this to be a proper challenge, especially as I'm raising money for cancer charities."
Paddison is no stranger to effort – his heavy duty training schedule has seen him build up to 28 miles a day so far, with the aim of reaching closer to 80 as the challenge gets closer.
"We're going to be doing 70 to 80 miles a day," he explains "going up to between 90 and 92 when we hit Scotland. Speed will be important, too, and I'm doing regular time trials as part of the training."
The former local authority Planning executive will not lack support on his journey. A team of local cyclists will be with him all the way to keep up his morale and Road Cycling company Mellow Jersey are behind the logistics of the trip – including the provision of mechanical and ride support. Not one to leave anything to chance, Paddison is also building a back-up bike, just in case:-
"I'm more concerned with the bike letting me down than I am about my body coping with the challenge" he comments "Devon and Cornwall will be immensely hard going and will really test the power assist I've put in place."

The challenge will also test  Andrew Paddison's drive and enthusiasm but he's pretty sanguine about it and is relying on his motivation to get him through; "Lands End to John O'Groats is something every serious cyclist wants to do at least once in their life time and I've always really gone for my goals," he explains. "There's much more to it than that, though. Thalidomiders are often seen as victims and we really aren't – just as it isn't just celebrities that do stuff for charity. I thought it would be good for people to see that having a limitation doesn't stop us taking up hard physical challenges or giving something back. I know I haven't reached my physical or mental limits and I'm excited at the prospect of testing them to the max – and learning a lot about myself in the process."
Andrew Paddison will be cycling for Macmillan Cancer Support, Prostate Cancer UK and the Ruth Strauss Foundation.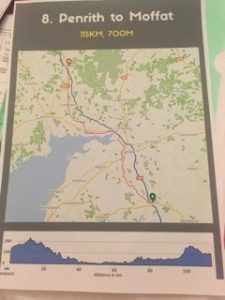 Andrew is setting off from Penrith this morning and should be arriving in Annan at around midday at the Queensbury Arms and then passing close to Dumfries in the afternoon on  his way to Moffat, where he will be finishing for the day. If you spot him any support or a wee cheer would be much appreciated!
Sponsor his efforts via Just Giving here ; Track his progress on Facebook here .