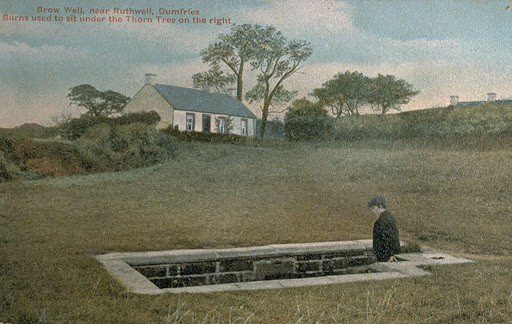 South Scotland MSP Emma Harper, a keen Burnsian who is a Past President of Dumfries Ladies Burns Club No.1, has welcomed that the Dumfries and Galloway Burns Association (DGBA) have got behind her suggestion to hold the 2020 historic and prestigious Brow Well Ceremony online this year, rather than the annual ceremony being cancelled.
Ms Harper put the idea forward during a Zoom AGM meeting of the DGBA where the group were discussing how to allow for the time honoured, historic ceremony to be marked amidst the current COVID-19 pandemic, and current social distancing requirements including prohibiting group gatherings.
Burns aficionados – including the South Scotland MSP – from across D&G and beyond have joined in recording themselves reciting lines from Burns' famous dirge 'Man Was Made to Mourn'.  These clips have been edited together to show Presidents and members from Burns clubs across the region – and Her Majesty's Lord-Lieutenant of Dumfries, Fiona Armstrong, President Fiona Evans, Members of both Scottish and UK Parliament's and Past Presidents of the Robert Burns World Federation – recite the poem in its entirety.
This video forms part of 4 social media videos for broadcast on newly created DGBAssociation YouTube channel, that starts with a welcome by President Evans, who introduces immediate past RBWF President, Bill Nolan, who delivers the eulogy followed by a prayer by the Reverend Gerald Moule from Ruthwell Kirk in memory of the Bard and then Howff Club Piper Callum Watson playing the lament.
Professor Gerard Carruthers, from the University of Glasgow, also presents a short history of the Brow Well and the last few days in the Life of Scotland's National Bard. The virtual event will be linked to YouTube on the DGBA Facebook page where people are encouraged to visit, view and share.
Commenting, Ms Harper said:
 "The contribution of everyone has been phenomenal. I have been able to watch the careful editing process and the submissions are delivered carefully, competently and often passionately from all participants.

"This year, many festivals, ceremony's and celebrations, have not been able to go ahead due to the COVID-19 pandemic. I am therefore pleased that the DGBA supported my idea to make this year's service virtual. This has become part of everyone's new normal across the region and Scotland.

"I want to thank the Dumfries & Galloway Burns Association for having such an open minded approach for this years' service, and I also thank my Dumfries and Galloway MSP and MP colleagues who have agreed to join in reciting Burns.

"In the words of Burns himself, "The best laid schemes o' mice an' men gang aft agley." Meaning that no matter how much planning or preparation is made, things can still go wrong, but there is always an alternative or solution. Indeed, I am pleased that we have found one which allows the 75th Annual Brow Well Ceremony to go ahead and to honour the life and works of Scotland's Bard."
Dumfries and Galloway Burns Association President, Fiona Evans, added:
"I have been overwhelmed by the response and the support received from the local burns family. The response has been phenomenal, we have 39 people taking part including a representative of every member club from DGBA; local politicians & VIPS; past presidents & youngsters representing DGBA schools competition.

"As newly installed President of Dumfries & Galloway Burns Association, I was very much looking forward to my first official duty, to oversee the Brow Well ceremony.

"Emma made a suggestion at our recent virtual AGM to record a message to share on social media to commemorate this important date in the Burns calendar, I was determined to look into this more to see how we could make this possible.  I spoke with Emma & our executive committee and we started planning on earnest."