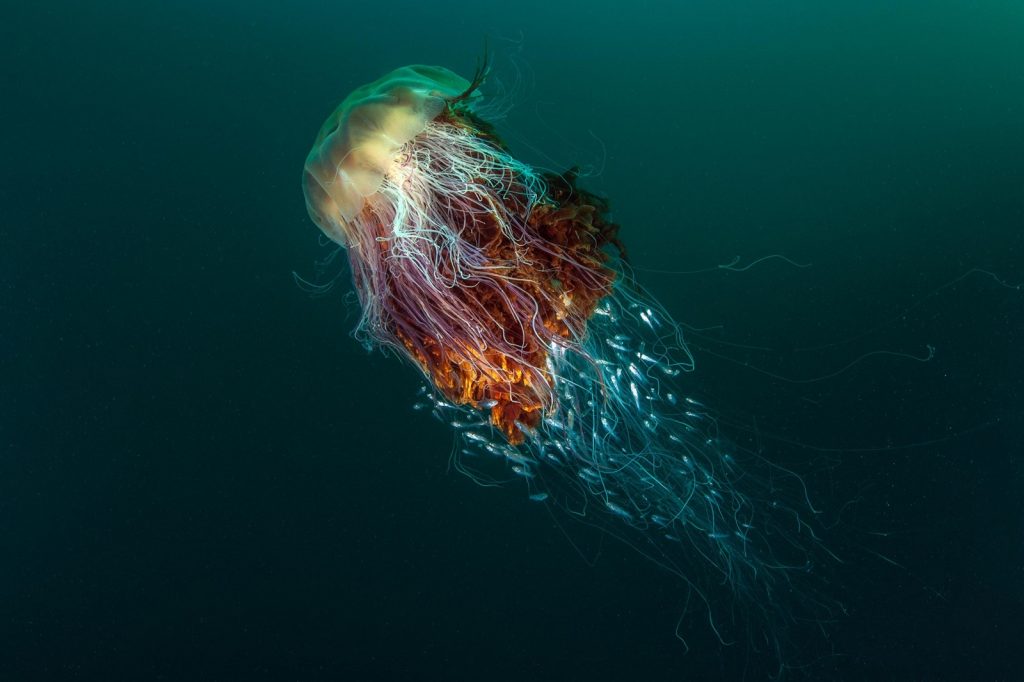 Gracefield Arts Centre is the only Scottish venue to host this panel-based exhibition which opens on Saturday 4 March in Dumfries.
It's being presented as part of the inaugural Wild Film Festival happening in Dumfries from the 24-26 March and you can find out more about the exciting programme coming up at www.wildfilmfestivalscotland.com
The BWPA celebrates both the work of amateur and professional photographers and the beauty and diversity of British wildlife. Winning images are chosen from thousands of entries in sixteen separate categories including a special film category for Wildlife in HD Video and three junior categories to encourage young people to connect with nature through photography.
The Overall Winning Image, 'Hitchhikers' of a Lion's mane jellyfish is by George Stoyle,( main Image) who said of his prize-winning piece;
"I was working on a project to assess the current biological status of major sea caves around some of the UK's most remote islands. At the end of one of the dives I was swimming back to the boat when I came face to 'face' with the largest jellyfish I've ever encountered. As I approached cautiously I noticed that a number of juvenile fish had taken refuge inside the stinging tentacles". There were also local winners with Michael Durham from Dumfries 'Predator and Prey' receiving a highly commended.
Communities Committee Chairman, Councillor Tom McAughtrie comments;
"I can't wait to enjoy this selection of wildlife photography here in Dumfries and pleased to see a local winner among the top prizes."
The British Wildlife Photography Awards has become one of the most anticipated events in the wildlife photography calendar. The bar in wildlife photography has already been raised to unimaginably high levels of sophistication, innovation and artistic vision, yet the standard somehow continues to get better and better.
This latest collection of images is testament to the sheer level of interest in wildlife in Britain and, above all, the remarkable abilities of our wildlife photographers. Over 100 images and videos, including winning and commended entries launched at the Mall Galleries, London, last September and since then the show has been to venues across England. The exhibition is accompanied by the British Wildlife Photography Awards: Collection 7 and this stunning coffee table book is a wonderful celebration of British wildlife as captured on camera by today's best amateur and professional photographers.
The exhibition is open Tuesday – Saturday 10am to 5pm and an extra Sunday afternoon as part of the Wild Film Festival on Sunday 26 March, 12noon to 3pm. Admission to the exhibitions at Gracefield is always free.
Visit the website at www.dumgal.gov.uk/gracefield or check out Facebook and Twitter. There's plenty parking and our lovely Café Hubbub for some healthy lunches and snacks and of course, cake.
Comments
comments