Dumfries & Galloway Arts Festival has unveiled its bold and exciting programme for the 2020 Dumfries & Galloway Arts Festival with 41 performances across 29 venues throughout the region of Dumfries & Galloway.
The ten-day festival running from the 22nd – 31st May 2020, is packed full of inspiring performing arts events, including UK award-winning performances to be enjoyed in village halls, theatres and schools in almost every postcode across the region.
For more information visit: www.dgartsfestival.org.uk or call 01387 253 383 to book tickets
This year, to celebrate the size and diversity of the region, Dumfries & Galloway Arts Festival are hosting two opening events, in Annan and Stranraer.
At Annan Academy, The National Theatre of Scotland are bringing their show The Cheviot, The Stag and The Black, Black Oil on Friday 22nd May which is back by popular demand following a completely sold out tour in 2019. This legendary piece of Scottish theatre tells the story of the exploitation of Scottish lands, waters and people over the centuries and is described as "A Ceilidh Through Scotland's Past – and Present and a story that has a beginning, a middle but, as yet, no end…'.
With Stranraer seeing Dumfries & Galloways very own Magician, Brandon Barrett take time out of his national tour to perform his show Brain Access at the Stranraer Millennium Centre on Friday 22nd May. The show mixes magic and mind reading to make you wonder if it was actually all just a trick. Fresh from the Edinburgh Festival Fringe and having smashed festivals and venues across the country, Scotland's Young Magician of the Year is back as part of the grand opening celebrations for this year's festival.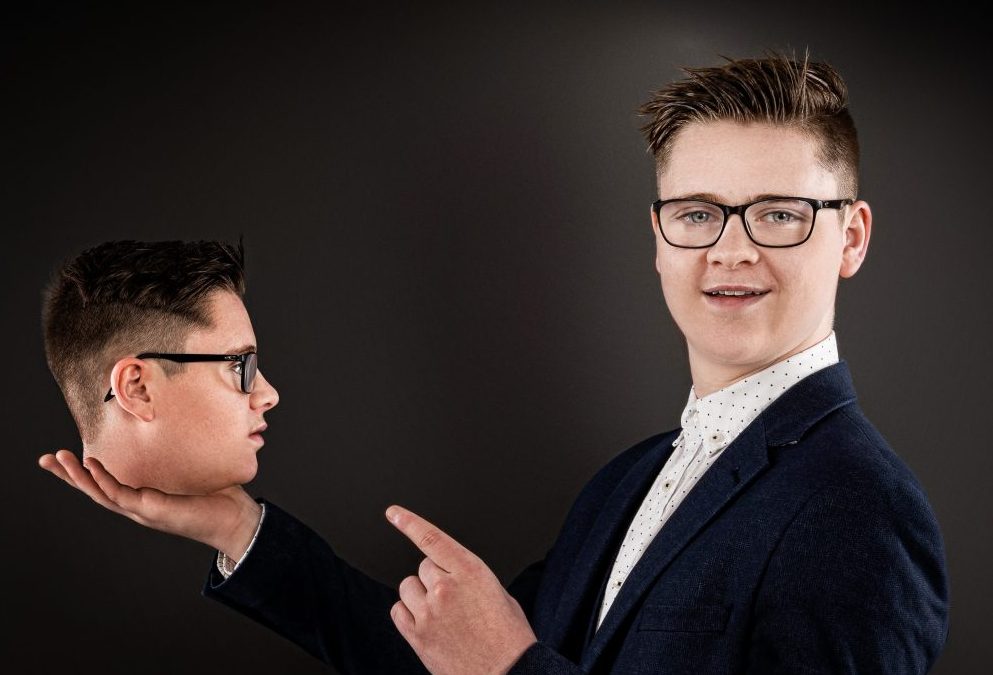 Not only have the festival lined up a number of exciting shows to kick off this year's programme but they are creating one big free event that will take over the centre of Dumfries on Saturday 23rd May. From the makers of Big Man Walking, comes a folklore giant made real. STORM made waves earlier this year at Celtic Connections in Glasgow and towering over her brother Big Man, Dumfries & Galloway hasn't seen anything like this since he visited back in 2010. This year, she is visiting Dumfries & Galloway to tell the story of the oceans in crisis and initiate a fight against our climate emergency.
D&G Arts Festival are inviting you to join her on a journey as she makes her way through the heart of Dumfries with pop-up protests, choirs, dance performances and pipe bands; a community event to show the world that Dumfries & Galloway can make a difference in the fight against climate change.
The 2020 programme has a number of sensational surprises that are sure to entertain all ages and offer something exciting, even for those that have never experienced the festival before. The ten-day long programme showcases the very best of music, comedy, spoken word and theatre.
Following his smash hit at last year's festival, from his national sell out tour Team Viking – James Rowland is back, with three performances of his new show A Hundred Different Words for Love in Lochans, Twynholm and Moffat; a hilarious, heart-lifting story of romance, despair and friendship sure to be another hit at this year's opening weekend of the festival. At the Moffat performance, the festival will also have local sign language interpreter Jacqueline Wilson to interpret the show.
With famous fans from all over the world such as Pink, Emma Watson and Benjamin Zephaniah, Hollie McNish, an award-winning poet and spoken word artist is taking to the stage at Moat Brae on Saturday 23rd May. Videos of her poems have repeatedly gone viral, getting over 1 million YouTube views in just one week and is the perfect antidote to the doom and gloom of global world news.
In a multi-media performance, award-winning local poet Chrys Salt and acclaimed harper Wendy Stewart weave a rich and enthralling exploration of mental health, the creative process, human frailty and ancient traditions coming to three venues across the region performing classic music and spoken word. These performances take place across the region over the opening weekend in Gatehouse of Fleet, Thomas Tosh and Colvend.
The festival really kicks into celebratory spirits with Looping: Scotland Overdub, led by Scottish Dance Theatre at the Dumfries YMCA on Tuesday 26th May, embracing the collective spirit of Ceilidh dancing and Brazilian street festival vibes. This is a dance piece that will bring the community together into one big performance party where all ages, all genders and all groups are welcome by acclaimed Scottish Playwright, Kieran Hurley (BAFTA winner, BEATS) and set to a fresh electronic dance score performed by Torben Lars Sylvest and this is a night out that will have you buzzing for the whole of the festival. This performance will also be BSL interpreted.
The festival also features an unplugged version of Vanishing Point's award winning Metamorphosis at Glencairn Memorial Institute on Wednesday 27th May and Theatre Royal Dumfries on 28th May based on Kafka's iconic novella and the recent theatre spectacular. This 'unplugged' version features two actors in an intimate, up-close setting and they will welcome you with a free glass of something for everyone.
Aurora Nova are bringing Portraits in Motion to RBFCT in Dumfries on the 27th May and The Print Room in Wigtown on the 28th May. Volker Gerling, a passionate creator of flipbooks and an intrepid traveller who shows his audience a selection of his famous portraits holding each one of his flipbooks under a video camera. In this series of enchanting and precious moments, the people he has photographed come to life as the audience encounter the heart-warming stories behind each portrait, perfect for avid photographers and film lovers.
Best known as host of BBC Radio Scotland's Friday nights, Ashley Storrie is taking to the stage in Portpatrick Village Hall on Thursday 28th May for an hour of her best material and biggest laughs. Noted as "a perfect hour of comedy…relentlessly funny" by Broadway World and with a number of 5 star reviews to boot, Ashley is sure to take the West of the region by storm as she gears up for a fantastic festival performance.
Formed at the end of 2019, this year's programme showcases Sons of Flynn at the new Vault Arts Centre on Friday 29th May; with charismatic front man Grant Dinwoodie, this new band are feeding audiences with raw energy and musical talent. With their debut single 'Take Down the Noose' firing on all social media platforms, this band are ready to take on their show at the D&G Arts Festival 2020.
Showcasing local theatre groups and performing artists has been a key focus for the Festival in 2020 and they are proud to showcase Fox and Hound at the Theatre Royal on Friday 29th May – winners of the Derek Awards Best Drama at the Edinburgh Fringe in 2019; a local company who are performing their new show No More Oranges, giving a personal portrayal of one man's war as he becomes a POW and creates his own world in the chaos to ensure his survival.
From theatre to comedy, the festival has produced an exceptional collaboration evening at Lockerbie Town Hall on Saturday 30th May with Young Magician of the Year Brandon Barrett performing a very special version of his show Brain Access. Then headlining the night is award winning comedian Mark Nelson, Dumfries' very own internationally acclaimed stand up returning to offer his unique take on today's world.
To close the 2020 Dumfries & Galloway Arts Festival on Sunday 31st May at the Crichton Memorial Church, Annan based indie electronic artist Robert Shields, ONR, is teaming up with Scotland's pioneering string orchestra for an evening exploring the experience of being a stranger abroad. With an eclectic mix of music and some of ONR's own tracks alongside thought-provoking classical works, together this is a one of performance that is sure to delight fans both indie and classical alike.
Throughout the 2020 Festival, the Young Promoters Group have been heavily involved in producing work that they feel would be relevant to them and their peers and this is something that is clear in discovering this year's exciting line up. From STORM, to the Scottish Ensemble working with schools across the region, the Young Promoters Group have been key in programming this year's festival.
With 41 events over 29 venues throughout Dumfries & Galloway this May, the programme is shaping up to be one that will create a lasting legacy across the region, reaching new audiences and inspiring the next generation.