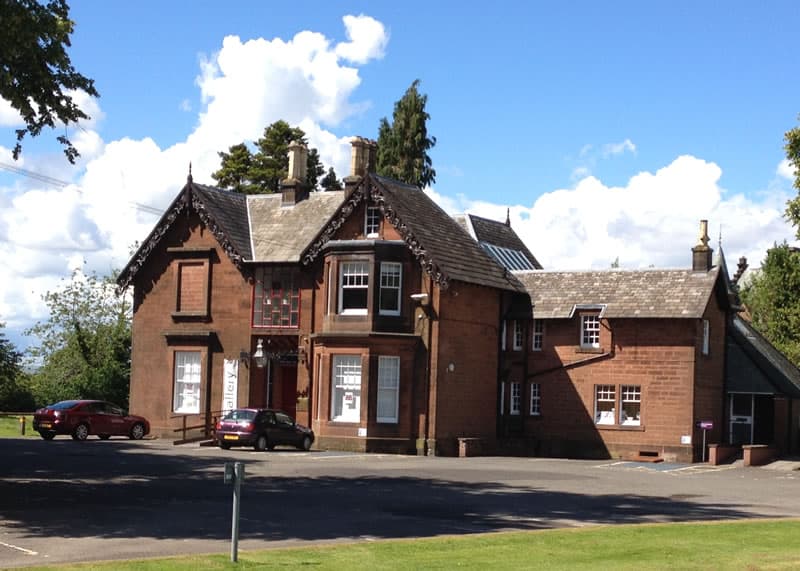 The exhibition for the summer holidays at Gracefield is the annual show from the Dumfries and Galloway Fine Arts Society. Alongside the tradition display of over 200 artworks by current amateur and professional artist-members in Gallery 1, to mark this 90th annual exhibition, we're also showing a section of artwork in Gallery 2 by past and present presidents.
The key artists who contributed to the success of the society since the 1920's include artists such as Scottish colourists, Cadell and Peploe and local characters such as Jessie M King, Oppenheimer and Hornel as well as more recent artists like Melville Brotherstone, Hazel Campbell and current President Davy Brown. There's a vast variety of styles of art from historic to modern and kids can try their hand at some drawing and quiz activity sheets throughout the exhibition period. Since opening on the 15th July the visitors who been have commented: "Lovely exhibition will be back to drink it in", "We both enjoyed this show, a great tribute to the Society", "Wonderful – this is what I call an exhibition!".

Councillor John Martin who is Vice-Chairman of the Council's Communities Committee comments;
"It's great to see our Fine Arts Society thriving and the display of the work past to present presidents really helps to show the development over the last 90 years."
There's always lots to see and enjoy, even while you are having a coffee, and this month is no exception with a new show from Langholm-based artist Ann Smith. Her paintings use a combination of brushwork and palette knife, and her textile pieces are rich in colourful texture. Skylines are a particular favourite in Ann's work – they set the scene for the day; they create the mood and are continually changing. The colour, the light and the movement can be captivating and she feels it has the power to set the scene of every moment of everyday, altering our mood and emotions.
You can see Ann's work in café Hubbub until 12th August and the Fine Arts exhibitions until the 19th August. Following on from this will be our headline show for the year, which is on special loan from the Tate and National Galleries Scotland: Artist Rooms: Don McCullin. An award-winning photographer Sir Don McCullin has documented conflict in war zones from Vietnam to Northern Ireland and this show features his striking black and white prints from the 1960s to the mid 2000's.
Visit the website HERE or check out Facebook and Twitter for lots of pictures of what's happening. There's plenty of free parking here at Gracefield and head to our lovely Café Hubbub for healthy lunches and snacks and of course, cake!