The Met Office has issued a warning that parts of Dumfries and Galloway could suffer from Snow and Ice during a cold spell expected to hit the region this weekend, starting in the early hours on Friday the 8th and continuing through to Saturday the 9th at 6.00pm.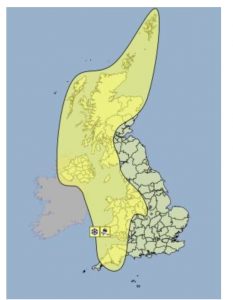 Snow showers are expected to become increasingly frequent over northern Scotland late on Thursday and are expected across many other parts of Scotland, Northern Ireland, Wales and western England on Friday. 2-5 cm of snow is likely for some, with 10-20 cm possible over high ground, mainly Scotland, Northern Ireland and Wales.
Icy surfaces are also likely to be an additional hazard, especially overnight. Strong northwest winds may cause drifting of the snow in places with blizzard conditions possible at times across northern Scotland.
The heaviest and most frequent of the snow showers will progressively become confined to northeast Scotland during Saturday. Some roads and railways likely to be affected with longer journey times by road, bus and for train services. Probably some icy patches on some untreated roads, pavements and cycle paths. Some injuries from slips and falls on icy and snowy surfaces.
During winter weather which brings snow showers, it is not uncommon for snow amounts to vary considerably across short distances. On Friday and Saturday, the snow showers could lead to snow accumulations which vary markedly across the warning area.
Comments
comments