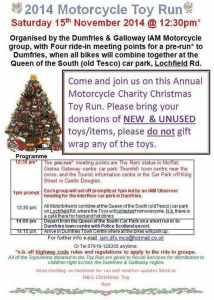 DGWGO were contacted this week by Grant McCallister , who is helping the Annual Motorcycle Toy Run Raise some extra funds by producing a T shirt to sell ! This is a really popular event and does a lot of good , And Grant wanted to help support it in his own way !
A little back story: I'm a new bike rider, so this will be my first time taking part in the event itself – I've seen it happen year after year but I've not really been able to get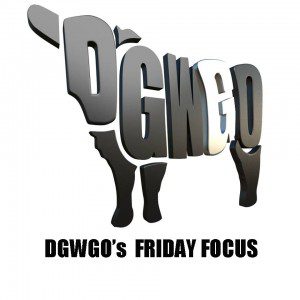 involved.
The run is basically a group of bikers from around the Dumfries and Galloway area getting together, riding through the region stopping at various points. What they do is bring a bunch of presents (unopened and new) with them, these get distributed to social services for underprivileged children this Christmas.
So that got me thinking, I'm sure this event can have a much larger impact if others could get involved. So I've created some t-shirts, where all the profits will go to buying toys that will be donated for this charity run. I've also said I will double the profits made with my own money.
I'm not involved with the organisation of this run, I just want to be a part of it and I think no kid (especially local kids) should go without at Christmas – I wouldn't be able to enjoy it knowing that I didn't try to help out.
I've had great support from the local IAM group as well as the Galloway Gremlins (both local motorcycle groups) – with orders being placed, people are buying them as Christmas gifts for bikers – which is a great idea I thought!
For the printing of the T-Shirts, I'm using a service called TeeSpring – they receive all the orders and then after the sale is closed (this weekend) the t-shirts are all printed and sent out to everyone who ordered one – so they are really limited edition! If we don't reach our goal of 10 t-shirts, they don't get printed and no one will be charged – but that also means that no profits will be made to help buy gifts so I'm really hoping that we can at least sell 10 of these.
There are 2 styles (all prices on the TeeSpring site are listed in USD, but they ship all over the work and paypal or your bank will convert this for you).
Here is the lower cost T-Shirt, which is cheaper to print (delivered it costs 20 pounds): www.teespring.com/ScottishBiker2
There is a more expensive one, higher quality print and material (it costs around 28 pounds delivered): www.teespring.com/ScottishBiker
These all come in male and females sizes.
Article written by Grant for DGWGO