The Stanley Cup, ice hockey's most iconic and revered trophy, is coming to Dumfries.
Dumfries Ice Bowl will stage the biggest event in its 20 year history when it hosts World Championship Ice Hockey in December.
The Great Britain Under 20s Men's Team will compete in the International Ice Hockey Federation's Group 1 B tournament and play against Japan, France, Italy, the Ukraine and Kazakhstan. The tournament takes place between Monday December 9 and Sunday December 15.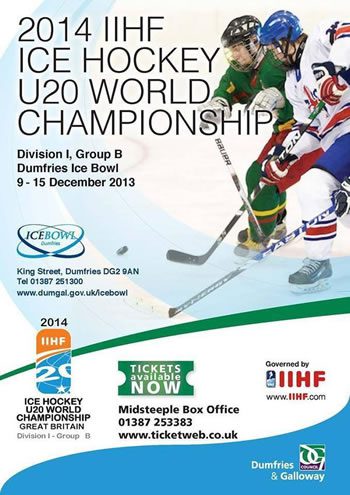 Great Britain will play their fixtures at 8pm at the Ice Bowl during the course of the tournament, which is bound to capture the public's imagination.
The Hockey Hall of Fame is bringing the world-renowned Cup to Scotland, which is presented to the NHL play-off champions each year.
The National Hockey League (NHL) is the most prestigious ice hockey league in the globe, played for by the best-loved teams of Canada and the USA.
The arrival of the Stanley Cup will boost the promotion of ice hockey in Scotland and the UK, and encourage visitors to take in some of the International Ice Hockey Federation's (IIHF) World Championship Under-20s (Division 1B) matches at the Dumfries Ice Bowl.
The Great Britain Under-20s men's team will host the six-team tournament and play France, Italy, Japan, Kazakhstan and the Ukraine from Monday 9th December to Sunday 15th December 2013.
The Stanley Cup will be on display as part of a special ice hockey memorabilia exhibition at the Ice Bowl between 1pm and 5pm on Wednesday 11th December. There will be a £5 admission charge to visit the exhibition.
The visit is being organised by the Hockey Hall of Fame to celebrate 100 years of ice hockey in the UK.
Visiting dignitaries coming from North America include Jim Gregory, a senior vice-president of the NHL and chairman of Hockey Hall of Fame selection committee.
Councillor Colin Smyth, Dumfries and Galloway Council events champion, said: "Sports fans will be familiar with the name of the Stanley Cup, but they may not know just how much it is loved and woven into the history of ice hockey.
"It's a beautiful trophy too. We are really fortunate to have the chance to put the Stanley Cup on show in Dumfries.
"For ice hockey fans locally, it's a wonderful opportunity to see both the Stanley Cup and World Championship matches in the same week."
Andy French, general secretary of Ice Hockey UK, added: "This is going to be fantastic week for British ice hockey.
"We would like to thank the Hockey Hall of Fame and the NHL for their support for this amazing event."