Kirkcowan Cycles contacted DGWGO via our Facebook Page about their thrifty solution to a common question cyclists face when preparing for the 7Stanes mountain bike trails.
Almost every day at Kirkcowan Cycles we have customers asking about mountain bike tyres. Wondering which is best for grip, rolling resistance, weight and for every type of terrain imaginable. Well there is no right answer to that and finding out by trial and error can be VERY expensive!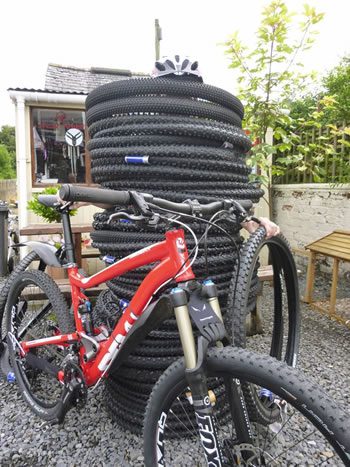 So we came up with "Tyre Hire" It's a simple idea that could save mountain bikers and absolute fortune, we have a great selection of tyres available to hire for the day at a cost of only £5 per pair, you fit them, try them on the trails or terrain you normally ride then return them, if it's not what suits your riding then it has cost you £5 to find out BUT if you decide you want that type of tyre OR any other type we stock you get your £5 deducted off any pair of tyres your purchase!
We have concentrated on mountain biking since the range of tread types and conditions we ride vary so much, you get tyres for hardpack, loose over hardpack, gravel, sand, soil, loam, mud, rock, root, uphill, downhill, cross country, Enduro, all mountain, trail centre, freeride then you have wet weather, dry weather, maybe you're riding rock and loose over hardpack on a wet Tuesday that's got a great downhill section that could be dry by the afternoon…then which tyre is best?? It's a nightmare to know!
You can read the online reviews but finding relevant ones can be tricky, a fantastic review from someone riding dry desert rock in Arizona is no use to you riding through the mud on some back woods natural trail in Glentrool Forest so why not get the only opinion that matters…YOUR OPINION!
At Kirkcowan Cycles we always carry a huge range of tyres to cover every terrain we can think of..even sheet ice! So to start with we have selected a few of our most popular and favourite tyre types to be available for hire.
Schwalbe Hans Dampf (The most talked about tyre of 2013)
Schwalbe Racing Ralph
Schwalbe Smart Sam
Schwalbe Nobby Nic
Schwalbe Ice Spiker
Kenda Slant 6
Kenda Smallblock 8
Kenda Blue Groove
Kenda Nevegal
CST Caballero (parent company of Maxxis)
Plus others from CST, Maxxis and Schwalbe tyres to be introduced in future. You don't have to select a matching pair either, If you fancy trying a Kenda Nevegal on the front and a Schwalbe Racing Ralph on the rear then fine, there is no right or wrong combination, it's whatever feels right for you.
Being able to try before you buy really will save you a lot of money, time and hassle, it means you don't end up with a shed full of unused tyres and although cycling is very environmentally friendly, it certainly dents its green credentials if you end up with a load of spare tyres. This is just the start of our "Tyre Hire" concept, the range available will grow and evolve as demand dictates. We will always give you advice based on our own riding experience but in the end, what suits us may not suit you, we ride different bikes on different terrain in very different ways, this way you get it right, no review and no advice can ever get that spot on, Kirkcowan Cycles "Tyre Hire" can!