Dumfries and Galloway Council were very proud to open its doors at the official opening of the new Kirkcudbright Galleries on Friday 8 June – a transformational project of which the Council and the town of Kirkcudbright can be rightfully proud.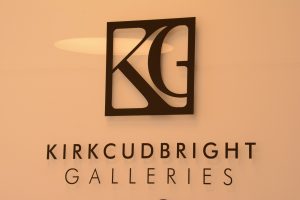 The project has seen the venerable Victorian Town Hall in Kirkcudbright regenerated as a facility which is ideally suited to house the Council's permanent collection of Kirkcudbright Artists' work, and – just as excitingly – host touring and temporary exhibitions of new work from Scotland, the UK and the rest of the world.
Kirkcudbright Galleries began almost 20 years ago with a demand from the community of Kirkcudbright to create a large space for touring art exhibitions. Kirkcudbright 2000 was formed, and a series of large-scale exhibitions were organised in Kirkcudbright Town Hall. These proved extremely popular and – recognising the limitations of the old building – paved the way for the Kirkcudbright Galleries to become a priority project with Dumfries and Galloway Council.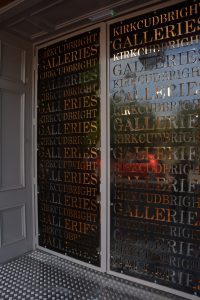 Kirkcudbright has, for over a century, welcomed and nurtured several generations of distinguished artists and craftspeople, some of whom, such as Charles Oppenheimer, Jessie M. King and E.A. Taylor, played an active part in the civic and social life of the town. The Council is confident that the new Gallery will prove to be a huge asset to the town as it moves into the next phase of the 21st Century. The Mezzanine Gallery will be used as a practical area for use by groups of all ages, including schoolchildren, to enable them to explore art and their potential involvement in creative exploration.
The Council has funded the new Gallery, both because of its enhancement of our ability to give an appropriate level of display facilities for our Kirkcudbright Artists' Collection, and items on loan from national and international sources, but also because we recognise the value of cultural tourism in the region. The successful establishment of Wigtown as Scotland's Book Town, and the now essential annual Book Festival in that town; Kirkcudbright's organic growth as The Artists' Town, and a large number of arts and crafts businesses which have grown up with and around the concept; the wider cultural industries in Dumfries and Galloway, including the annual Spring Fling exhibitions in makers' and artists' premises across the region; and a huge number of major and smaller events including music and literary festivals throughout the year: all these help to sustain our communities through the sale of works and acting as a draw for visitors, as well as attracting artists and crafts people to settle in the region. Our area has also benefited from the significant work being done through community arts companies such as The Stove Network, to involve the wider community in art-related projects. Arts and culture are intrinsic to the way we live, and the new Kirkcudbright Galleries are a clear signal of our commitment to the development of top-class facilities within the region.
Speaking at the official opening, Council Leader, Elaine Murray, said;
"I am delighted that Kirkcudbright Gallery opened on Saturday for
am sure you are all as struck as I am by the quality and ambition of the design of the Galleries, which has combined the existing structure of the Town Hall with an innovative approach to the use of space and light within the building. We truly do have a city quality gallery in this small but dynamic rural town. It emphasises the ambition and capability of the Council and its partners to deliver a facility which will attract visitors from the local area and much further afield, and which will be the beating heart in the body of the Artists' Town. More than this, Dumfries and Galloway's commitment to the Gallery and its Business Plan was secured on the basis of the anticipated economic benefits to the town and the wider region from increased visitor numbers generated through an extended visitor season.
I would like to thank National Galleries Scotland for the loan of Landseer's iconic "The Monarch of the Glen", which occupies pride of place in Gallery 1 for a short period after opening, and which I am sure will provide further incentive, if any was needed, for people to come to visit.
I must also thank the Kirkcudbright 2000 group for their indefatigable work in bringing the project forward with the Council, and in helping to steer it towards its conclusion. And of course, I thank the Friends of Kirkcudbright Gallery for their future role in supporting the Gallery as it moves forward.
I hope that everyone takes the time to visit the new Gallery. I am pleased that this wonderful asset is now open for everyone to come and enjoy. I am sure that people will be very impressed with the Gallery and continue to come and visit for years to come."
All Images Copyright R.B Photography
Comments
comments