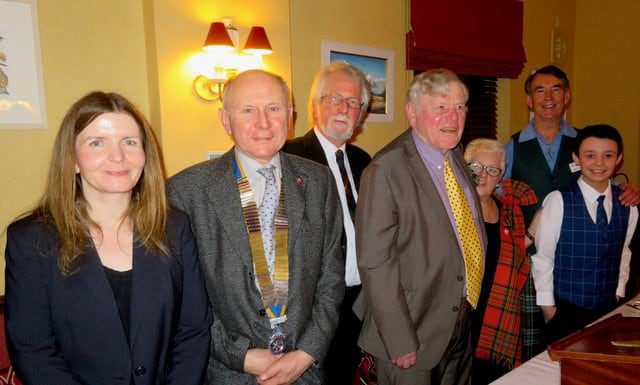 Last Week The Kirkcudbright Rotary Club celebrated the life and works of Robert Burns at their annual Burns Supper. 
Piper Jim White led the Top Table to their seats before later piping in the haggis. A musical introduction to the Bard featured two talented Kirkcudbright Academy pupils, Erin Findlay performing a piano recital and Faith Mackintosh singing.
In a break from tradition, Jean McKnight then delivered an amusing alternative version of the Selkirk Grace before the meal commenced to be served.
As the evening progressed, Club members and guests were enthralled by the energetic and enthusiastic Address to the Haggis on the part of S3 Academy pupil, Ben Durham followed by a wide-ranging, informative and witty Immortal Memory given by Sandy Henry.
Mike Duguid, Past President of the Robert Burns World Federation, recited 'To a Mouse', with the Toast to the Lassies thereafter being proposed by Gordon Cowan and responded to by Anne Halliday.  Finally, Paul Connors' Vote of Thanks was warmly received by the audience.