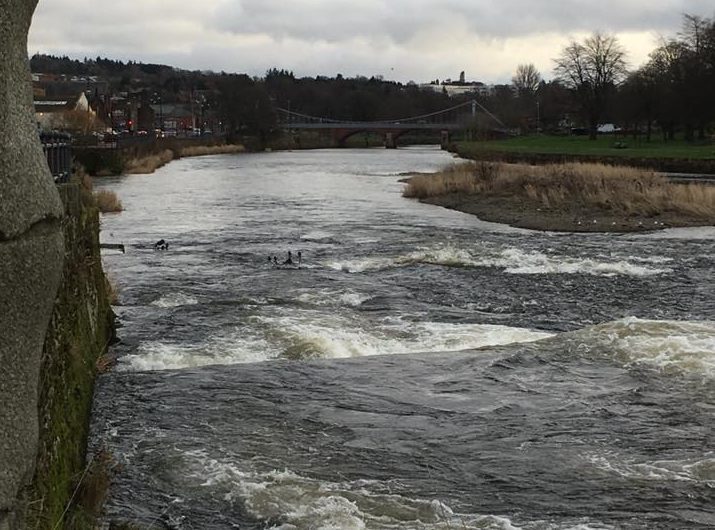 Further details have been issued as Police Scotland report that the major search for the 41 year old man who went into the River Nith in Dumfries, Dumfries and Galloway just before 9.00pm on Sunday 5 February 2017 will continue throughout today.
Emergency services were alerted to the report of a man, now confirmed as 41 year old Brian Cowie, having fallen into the river near to the premises of the rowing club at Greensands, Dumfries at around 2100 hours on Sunday evening. Resources involved in the major search included Police Scotland, The Scottish Fire and Rescue Service, the Maritime and Coastguard Agency, the Nith Inshore Rescue Service and a helicopter from MCA at Prestwick. Searches were carried on throughout the night and will continue today.
Inspector Rory Caldow at Dumfries said " we received a report at around 2100 hours last night in relation to a man falling into the River Nith in Dumfries near to the rowing club.. The man has now been confirmed as 42 year old Brian Cowie who was residing at an address in Queensberry Street in Dumfries. He is described as being about 6′ tall and was last seen wearing a dark jacket, grey hooded top, light coloured jeans and grey/black shoes.
Extensive searches have been carried out along the length of the River Nith down stream to the Solway Estuary, and these will continue today with the addition of volunteers from the Moffat Mountain Rescue Team. Divers from the Police Scotland Underwater Unit will also attend to assist with the search. At this stage we would ask that anyone who may have any information which might assist us in the this search call us at Dumfries on the 101 number.
Comments
comments