[headline htype="h4″] Mike Kneeshaw, Press Officer, Galloway Mountain Rescue Team[/headline]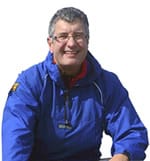 Weather……….. a topic of constant speculation and disappointment and a negative influence upon many of Galloway Mountain Rescue's recent activities. Therefore, for my first blog since we joined the DGWGO family, I thought it appropriate to reflect upon a lengthy period of unseasonal weather and how it has impacted upon the team and events with which we are associated.
By way of introduction, Galloway MRT provides 24 hour search and rescue services on an on call basis covering the area west of Dumfries, including Galloway and South Ayrshire. Our team of more than 40 local volunteers depend on public charitable support to fund our vital, live saving service. It costs in excess of £25,000 to keep the team going annually and we need to raise the vast majority of this money ourselves.
In March, the most challenging 3 day period in our 37 year history followed a significant and sustained snowfall during the weekend of 22nd – 25th. This resulted in us attending no fewer than 17 incidents to assist the local police and ambulance services. Our team members also transported vital food and medical supplies to stranded motorists on the A75. By comparison, we generally anticipate an average of around 12-15 incidents per year! That weekend, we were forced to cancel our annual joint training exercise with Moffat MRT and the then Strathclyde Police (now Police Scotland) MRT. This important date on our training calendar is an opportunity for the three teams to work together and test our response to a large scale emergency. The exercise has been postponed to a new date in June.
Then on April 14th, strong winds and driving rain forced us to make a difficult decision to re-route our popular 'Merrick Charity Challenge', event which we organise annually to allow local fundraisers an opportunity to undertake a mountain challenge in supervised safety. Hence, in the interests of walker safety, the reason we took the decision to circumnavigate Loch Trool instead. Inspite of the initial disappointment, everyone who participated seemed to enjoy their day.
From May 10th – 16th, our commitment to supporting community events, in particular the Newton Stewart Walking Festival was affected by cold, wet and windy conditions over the weekend, although those of us fortunate enough to be walking during the last 4 days of the WalkFest event enjoyed some great walks with much improved weather and often stunning views. Team members act as walk leaders for the more challenging hill routes during this annual week-long festival and two of the team are members of the organising committee.
With fundraising so important to us, I'd like to tell you about an ambitious challenge which is being undertaken by three stalwart team members.
Derek Hamilton (Chair) David Tyson (Secretary) and Ken Mackenzie (Depute Team Leader), starting from our base in Newton Stewart, will be cycling to the four compass point extremities of mainland Scotland. Their 1100 plus mile route includes the Mull of Galloway in the south, Ardnamurchan in the west, Dunnet Head in the north, Inch Keith (Peterhead) in the east and thereafter returning to Newton Stewart. I'm sure you'll agree this is indeed a formidable challenge and I hope you'll take time to support their effort to raise their target of £2,500. We really appreciate your contribution.
You can sponsor them on our Everyclick  page and during the event between the 6th and 17th July you will be able to follow their progress on our Facebook Page.
I'll be back soon to introduce you to a popular walk route in the Galloway Hills.