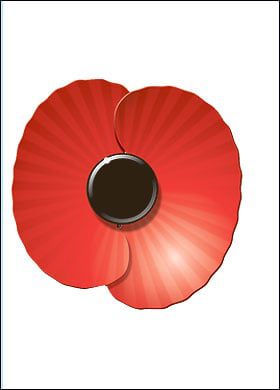 On 11 November 1921, the first cloth poppies were sold. 9 million had been made but, such was the nation's desire to remember those lost during WW1, they sold out almost immediately.
That first Poppy Appeal raised more than £106,000, a significant sum at the time, with the funds being used to help support veterans and find them jobs and homes.
Since then, the poppy has become an enduring symbol of remembrance and, every year, many millions of people choose to wear a poppy. This would not be possible without the efforts of thousands of members of the British Legion and Legion Scotland who volunteer each year to distribute and sell poppies.
However, due to the Covid-19 pandemic, and the restrictions we must all adhere to, many events and fundraising initiatives will necessarily be in a different format this year.
So, in the week of Armistice Day and Remembrance Sunday, you're being asked to display a poppy in your window.
Legion Scotland is asking too that you donate at: its Just Giving Page for Poppy Appeal 2020
Councillor Archie Dryburgh, Armed Forces Champion, said: "Every year people across Dumfries and Galloway support the Poppy Scotland Appeal, and I thank them for their continued support. However, this year, because of Covid-19, it will be much harder to raise funds. In my roles of Armed Forces Champion and Area Secretary for Legion Scotland, I'm very aware of the significant increase in the needs of our veterans. I'm, therefore, asking people across our region to show their appreciation and help us not to forget, by displaying a poppy and donating to Poppy Scotland."