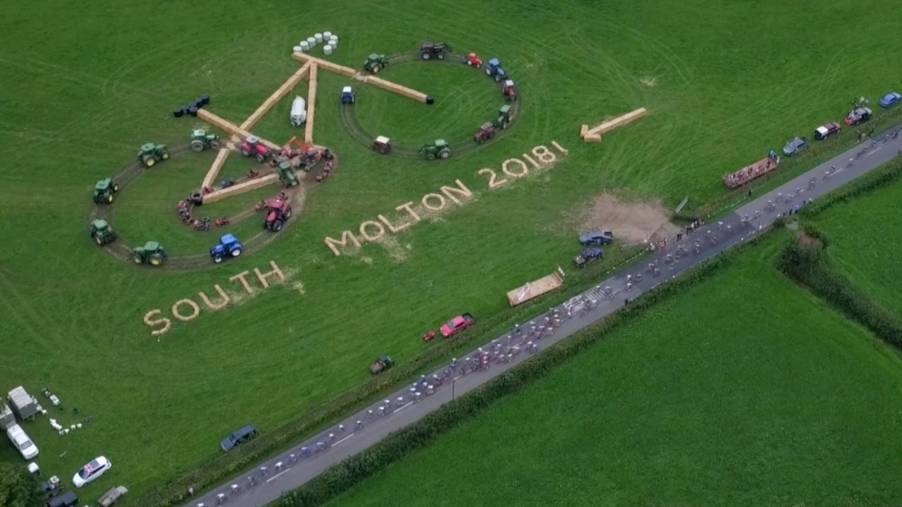 The OVO Energy Tour of Britain's National Land Art competition is returning  this September after the inaugural edition in 2018 captured the imagination of race fans across the UK and this time Dumfries and Galloway has an oportunity to be noticed as the Opening stage travels through the region and finishes in Kirkcudbright.
Communities, schools, clubs, businesses, land owners and farmers are once again being asked to come up with eye-catching creations in support of Britain's most prestigious international cycle race, which returns for its 16th modern edition later this year (Saturday 7 – Saturday 14 September).
Last year's National Land Art competition attracted over 50 entries, and was won by group of North Devon farmers from South Molton. Their giant bike creation, which comprised 19 tractors, 16 all-terrain vehicles, a 13-tonne excavator and one slurry tanker wrapped in plastic, impressively featured moving wheels, pedals and chain.
OVO Energy Tour of Britain Race Director Mick Bennett said: "The imagination and creativity shown in last year's entries proved once again that British people are the most passionate in the world when it comes to supporting international cycle races.

 

"I'm already looking forward to seeing the roadside creations that will decorate the eight stages that form this year's race route, although judging the winner and runners-up will no doubt prove a difficult decision once again!"
A panel comprising Mick Bennett, ITV4 presenter Rebecca Charlton and representatives from race organiser SweetSpot will decide the top three pieces of art at the end of this year's event.
The winner will receive a trophy and commemorative Tour of Britain prizes, presented in person by Mick Bennett, while the runner-up and third-place finisher will also take home trophies for their efforts.
While the tradition of creating land art masterpieces along the route has long been the practice at the OVO Energy Tour of Britain, as well as other cycle races around the world, the idea behind the competition stems from the creativity of Nottinghamshire farmer Des Allen.
His sheep-based land art design, which was aired live during the event's ITV4 coverage and broadcast around the world to over 120 countries, went viral during the 2017 race.
He said: "We were staggered by the response that our small efforts received. We did it as a bit of fun and the response was fantastic.  I would urge people to have a go; from a little bit of effort it is amazing the response you receive."
The OVO Energy Tour of Britain begins in Glasgow's George Square on Saturday 7 September, finishing eight days later on Deansgate in the heart of Manchester city centre on Saturday 14 September.
ITV4 will once again screen live free-to-air coverage flag-to-flag of each stage in the UK, along with a nightly highlights programme of the best of the action.
The OVO Energy Tour of Britain is British Cycling's premier road cycling event, giving cycling fans the opportunity to see the world's best teams and riders competing on their doorstep and helping to build a great cycling nation.
–
| | | | |
| --- | --- | --- | --- |
| Stage 1 | Saturday 7 September | Glasgow to Kirkcudbright | 201.5km |
| Stage 2 | Sunday 8 September | The Scottish Borders Stage | 166.4km |
| Stage 3 | Monday 9 September | Berwick-upon-Tweed to Newcastle-upon-Tyne | 182.2km |
| Stage 4 | Tuesday 10 September | Gateshead to Kendal | 171.5km |
| Stage 5 | Wednesday 11 September | The Wirral Stage | 174km |
| Stage 6 | Thursday 12 September | The Worcestershire Vale & Spa Stage | TBA |
| Stage 7 | Friday 13 September | Warwick to Burton Dassett Country Park | 186.5km |
| Stage 8 | Saturday 14 September | Altrincham to Manchester | 165km |
About the OVO Energy Tour of Britain
Re-launched in 2004 after a five-year absence from the calendar, the OVO Energy Tour of Britain is British Cycling's premier road cycling event, held annually across eight days in September.
The free-to-watch sporting spectacular features Olympic, World and Tour de France champions, and attracts a roadside audience of over 1.5m spectators. Live coverage of the race is shown daily in the UK on ITV4 and Eurosport, in addition to over 170 countries worldwide.
The OVO Energy Tour of Britain is ranked at 2.HC level by the UCI, cycling's governing body, making it one of the most prestigious sporting events in the sport's global calendar.
For further media information, rights-free photography and assets, click here.
Follow the OVO Energy Tour of Britain on Twitter (#OVOToB), Facebook, Instagram or via the event's official website at tourofbritain.co.uk.