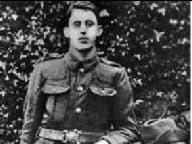 A commemorative paving stone will be unveiled and wreaths laid at Wigtown County Buildings to commemorate the centenary of [Acting] Sergeant Louis McGuffie being awarded the Victoria Cross during WW1. The Louis McGuffie VC Memorial Gardens archway will also be unveiled.
Friday 28 September 2018
Wigtown County Buildings DG8 9JH – outside/marquee [Bowling Green entrance]
1130: parade followed by unveiling of commemorative paving stone and memorial archway
The commemorative events will be attended by relatives of Sergeant McGuffie; the Lord Lieutenant for Wigtown [John Ross]; Sergeant Archie Knox and an Honour Guard, 6 SCOTS; representatives of 1 SCOTS; members of the King's Own Scottish Borderers Association; Loch Ryan Pipe Band; representatives of Legion Scotland; MPs; MSPs; and representatives of Dumfries and Galloway Council, Wigtown and District Community Council, Wigtown Festival Company, and the Louis McGuffie VC Centenary Committee.
Louis McGuffie was born in Wigtown on 15 February 1893, the first child of Edward McGuffie, general labourer, and Catherine [formerly Gilmour], who lived at 23 High Street, Wigtown, later moving to the Low Vennel.
Louis attended Wigtown Public School and, before the war, played football for Wigtown United.
On 6 October 1914, Louis McGuffie joined the Galloway Rifle Volunteers [D Company], subsequently serving with the King's Own Scottish Borderers 1st/5th Battalion.
His brothers also served during WW1. In 1918, Robert was severely wounded in the arm, resulting in amputation.
On 11 May 1915, the battalion sailed from Liverpool to serve at Gallipoli. Casualties were high and some Wigtown men were killed. Louis was twice wounded. In January 1916, the battalion moved to Egypt, seeing action in Palestine and Gaza. The battalion was deployed to Belgium in April 1918.
He was awarded the Victoria Cross for his actions at Piccadilly, near Wytschaete, Belgium, on 28 September 1918.
He was killed in action only a few days later, on 4 October 1918, when he was hit by a shell, unaware that he would be awarded the Victoria Cross. He was 25.
A KOSB officer describing McGuffie's actions, stated: 'The chief strong point in the Boche line was Piccadilly Farm, a fortified house held by a number of machine guns. Time again McGuffie rushed the machine guns by himself, and knocked out or captured their crews. Then, later, it was found that a party of 20 fellows from another battalion had been cut off and surrounded by twice as many Germans. McGuffie took a couple of men with him, made a surprise rush on them, and surrounded and captured all the Boche.'
The local paper reported that 'Mrs E McGuffie, Low Vennel, Wigtown, has received official intimation of the death of her son, Sergt L McGuffie, KOSB. The Chaplain in writing to his mother said that the Commanding Officer told him that in her son he had lost the best and bravest man. During the fighting recently Sergeant McGuffie took 40 prisoners single-handed, and released 10 men of a British regiment who had been taken prisoners by disarming the enemy escort that was leading them off. He was killed instantaneously by shellfire.'
Just before Christmas 1918, the local paper published the news that Louis had posthumously been awarded the Victoria Cross.
VC Citation – The London Gazette [13 December 1918]:
No. 240693 Cpl. (A/Sjt.) Louis McGuffie, late 1/5th bn., K.O.S.B. (T.F.) (Wigtown).
For most conspicuous bravery and resourceful leadership under heavy fire near Wytschaete on 28 September 1918. During the advance to Piccadilly Farm, he single-handed entered several enemy dugouts and took many prisoners, and during subsequent operations dealt similarly with dugout after dugout, forcing one officer and twenty-five other ranks to surrender.
During the consolidation of the first objective he pursued and brought back several of the enemy who were slipping away, and he was also instrumental in rescuing some British soldiers who were being led off as prisoners.
Later in the day, when in command of a platoon, he led it with the utmost dash and resource, capturing many prisoners.
This very gallant soldier was subsequently killed by a shell.
He is buried in Zantvoorde British Cemetery, Belgium.
McGuffie's Victoria Cross was presented to his old regiment by his family and is held by the King's Own Scottish Borderers Association, and is displayed at the regimental museum in Berwick upon Tweed.
Councillor Archie Dryburgh, Armed Forces Champion, Dumfries and Galloway Council, said: "As an ex-serviceman, it has been a privilege and an honour to have the opportunity to be involved with the planning of events to commemorate the centenary of Sergeant Louis McGuffie being awarded the Victoria Cross for his gallant act of bravery during World War 1. The VC is very poignant here in Wigtown, as McGuffie was in the local regiment, The King's Own Scottish Borderers. When McGuffie was awarded the VC posthumously, the local community funded his mother's journey to London to receive the VC from the King."

Councillor Jim McColm, who will lay a wreath at the ceremony on behalf of Wigtown Area Committee, said: "This event is a fitting tribute to the memory of a very gallant soldier who gave his life in the service of his country. His actions on 28 September 1918 were above and beyond the call of duty and fully merited the award of the Victoria Cross. Sadly, like so many others, Louis didn't return from the battlefields and it's important that the enormity of the losses remains in our memory.

"Great credit is due to the Royal Burgh of Wigtown and District Community Council and to Archie Dryburgh, Dumfries and Galloway Council's Armed Forces Champion, for organising this commemoration. Thanks are also due to local authors Mike Morley and Jack Hunter who wrote the commemorative book about Louis McGuffie, and to Jack Sloan and Paul Siddle, who were largely responsible for the commemorative archway."
The commemorative event, archway and book has been funded by the Heritage Lottery Fund, Dumfries & Galloway Council, Galloway Preservation Society, KOSB Association Stranraer, Wigtown Community Shop, Royal Burgh of Wigtown and District Community Council, Wigtown Common Good Fund, Galloway Association of Glasgow, and Stranraer and District Local History Trust. Support in kind has been provided by the KOSB Association Dumfries, and Wigtown Festival Company.
Comments
comments