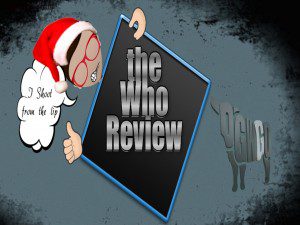 Dumfries and Galloway has thrived through December with Pantomimes and Gigs right across the region. I have said for some time now that we should be the region of culture, we have so many things to be proud of and each event large or small furthers the positive promotion of the best region and people in the UK.
2016 promises to be just as positive with so many things coming right throughout the year, from Big Burns Supper to Wickerman festival and right here at DGWGO we will continue to bring you all the promotion, coverage and reviews of as much as is physically possible.
From the Who Review we would like to thank the team at DGWGO for allowing us the opportunity to review the events and nights we have this year. It's always a pleasure to work with this dedicated, professional team but more than that it is a gift to call them friends.
Merry Christmas everyone.
There's More to Christmas
There's More to Christmas…
There's more, much more to Christmas
Than candle-light and cheer;
It's the spirit of sweet friendship
That brightens all the year;
It's thoughtfulness and kindness,
It's hope reborn again,
For peace, for understanding
And for goodwill to men!