Over the last few days there has been much excitement at Scotland's most southerly point, The Mull of Galloway Lighthouse, as Hollywood heartthrob Gerard Butler has been there filming scenes for his latest movie 'Keepers'.
The Film is based on the Flannan Isle mystery, the Mull of Galloway and other parts of Wigtownshire are being used as locations to film parts of the movie which is set on an uninhabited island 20 miles from the rugged Scottish coast.
The Story is focused around the  three lighthouse keepers  who arrive for their 6 week shift. As Thomas (Peter Mullan), James (Gerard Butler) and Donald (Connor Swindells) settle into their normal quiet routine, something unexpected, potentially life-changing occurs – they stumble upon gold. Where did it come from? Who does it belong to? A boat appears in the distance that might hold the answer to these questions – What follows is a tense battle for survival, fed by isolation, paranoia and greed, leading three honest men down a path to destruction.– Written by https://teaser-trailer.com 
The Paisley born Scottish actor 'Gerard Butler' who has stared in many Hollywood block busters including 300, London has Fallen, Law Abiding Citizen and P.s I Love you, has been attracting the attention of local movie fans.
One fan 'Kirsty Dey' from Stranraer  has been lucky enough to be photographed with Gerard and get an autograph, she told DGWGO entertainment news: "My friend and I just went for a run out to the Mull of Galloway, When we spotted Gerard,We watched them filming the new film, it was great to watch. I asked him if he was having fun out there and he said yes. I asked him for a hug and he was happy to oblige."

We asked Kirsty if he said much to her? She told us "I did most of the talking, he just asked my name so he could sign my bit of paper. He was being very friendly with the locals and signed another lady's birthday card as it was her birthday today, he really was very polite and friendly."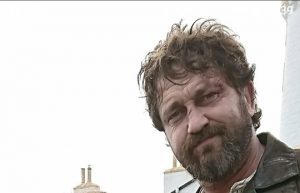 Gerard has been spotted all over social media while on his visit to Galloway, he has been very obliging and kind to take time out of his busy filming schedule to pose for photos and sign autographs with many other local fans.
A Spokesperson said "Today (6/4/17) is the final day of Filming at the lighthouse."
Images supplied by Kirsty Dey